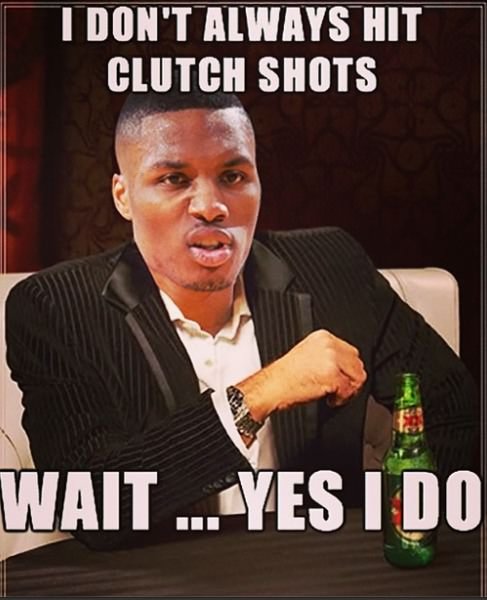 The Portland Trail Blazers take on the San Antonio Spurs in the Western Conference Semifinals starting tonight! It's the first time the Blazers have made it to the second round in 14 years. The defending Western Conference champion Spurs are a tough match-up, but they don't have Grantland Power Rankings leader Damian Lillard!
From Grantland: Whether he's drilling pull-up 3s or blowing past people for floaters at the rim, he has a special knack for just breaking people's hearts.
Tonight's game is at 6:30 on TNT! If you don't have a TV or want to watch with a group, here are some suggestions.
——————————————————–
Trail Blazers vs Spurs  Schedule
Game 1: May 6 @ San Antonio, 6:30 p.m. (TNT)
Game 2: May 8 @ San Antonio, 6:30 p.m. (ESPN2)
Game 3: May 10 @ Portland, 7:30 p.m. (ESPN)
Game 4: May 12 @ Portland, 7:30 p.m. (TNT)
Game 5 : May 14 @ San Antonio, 6:30 (TNT)
Game 6 : May 16 @ Portland, TBD (ESPN)
Game 7 : May 19 @ San Antonio, TBD (TNT)
——————————————————–
Watch Trail Blazers Games in Portland:
The Goodfoot Lounge (SE 29th & Stark) | (503) 239-9292 | More info: thegoodfoot.com
We've got something exciting rolling out tonight… We're going to have the Trailblazers game on our large HD projection screen upstairs! Happy Hour runs from 5 to 9pm with fantastic food & drink specials ($2 off pitchers of craft beer, $1 off infused cocktails and $5 food specials), game time is 5:30pm and of course… It's free (21 & over) so come on down!

East Burn (East Burnside & 18th) | (503) 236-2876 | More info: www.theeastburn.com
East Burn will have the game on a large screen in their dining room, a large projection screen on their heated patio, and also downstairs in the tap room. Recess discount menu from 3-6PM. They have daily food and drink specials.
Kelly's Olympian (426 SW Washington St) | (503) 228-3669 | More info: kellysolympian.com
One of Portland, OR's oldest watering holes, Kelly's Olympian, is happy. Happy to enough to offer happy hour through all remaining Portland Trailblazers playoff games ($1 off all wells, wine, select drafts, and happy hour food) with 3 large TV screens tuned into every minute of action.
——————————————————–
Our Portland Events App for PDX Pipeline is available for iPhones, Android phones and iPads!
Now, you can have all of the great Portland Trail Blazers events from our website in the palm of your hand when you're out on the town.
————————————
——————————————————–