From our sponsors: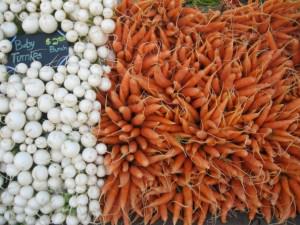 2014 Hollywood Farmers Market
Summer Season
Saturdays | Free | All Ages
May – September 8 a.m.-1 p.m.
October – November 9 a.m. – 1 p.m.
More info: hollywoodfarmersmarket.org
Hollywood Farmers Market
44th and 45th avenues in the Hollywood District
On Saturday, May 3rd, the summer season kicks off at the Hollywood Farmers Market (HFM). This marks the 18th season of the Hollywood Farmers Market, one of the longest running farmers markets in Portland.
Throughout the summer season, market shoppers enjoy farm-fresh produce and fruit from over 50 farmer vendors, locally sourced fare and live music, special events such as cooking demos, contests, Kids' Days events, and more.
HFM is operated by an experienced and energetic staff of three and is governed by a 15-member board of directors. Every Saturday more than 20 volunteers contribute, sometimes starting before dawn, to set up the market and ensure a safe, accessible, and fun experience for all.
Join us this Saturday! We will have music by string band New Five Cents, face painting by Crista Wakefield, cooking demos by Ahn Luu from Tapalaya & Skylor Powell from Sprout Health, and a special giveaway for our first 200 shoppers ~ plant starts from our own farmers.
For more information about HFM, including a list of vendors, please see www.hollywoodfarmersmarket.org