From our sponsors:
2014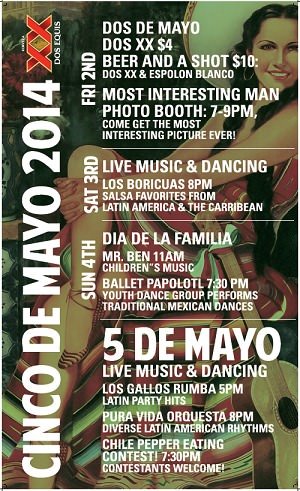 Cinco de Mayo Celebration
May 2-5, 2014
11 a.m. – Midnight
More info: santafetaqueria.com
Santa Fe Taqueria
831 NW 23rd Ave, Portland, OR 97210
(503) 220-0406
Celebrate Cinco de Mayo with a fresh Margarita & plato con carne at Santa Fe Taqueria located in the trendy NW 23rd shopping & restaurant district. There will be drink specials, live music & salsa dancing all weekend long!
Friday, May 2: Dos de Mayo
Drink Special: DosXX $4
Beer and a Shot: $10 (Doss XX & Espolon Blanco)
Most Interesting Man Photo Booth: 7-9 p.m., Come get the most interesting picture ever!
Saturday, May 3
Live music and Dancing: Los Boricuas, 8 p.m., Salsa favorites from Latin America & The Carribean
Sunday, May 4: Dia de la Familia
Mr Ben: 11 a.m., Children's Music
Ballet Papolotl: 7:30 p.m., Touth Dance Group performs traditional Mexican dances
Monday, May 5: 5 de Mayo
Los Gallos Rumba: 5 p.m., Latin Party Hits
Pura Vida Qrquesta: 8 p.m., Diverse Latin American Rhythms
Chile Pepper Eating Contest: 7:30 p.m., contestants welcome!
About the Taqueria
The tastes and flavors of Santa Fe derive from Puebla, Mexico where home cooked food simmers for hours and brings families and communities together. Abuelita Cardoso passed on her traditional recipes to us and we invite you to share them with your friends and loved ones.
At Santa Fe we have been serving up delicious Mexican food for 20 years. After studying the art of the 'taqueria" in San Francisco, Danny Cardoso opened the first authentic taqueria in Portland using his mother's recipes.