From our sponsors: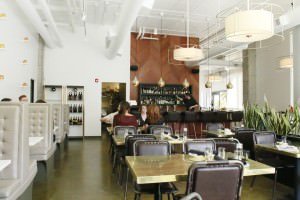 North Light Restaurant & Bar Opens
Dinner Daily 5 p.m.
Happy Hour 4 p.m. & 10 p.m.-Midnight
Weekend Brunch 9 a.m.- 2 p.m. Saturday & Sunday
More info + Menu: northlightpdx.com
North Light
3746 N Mississippi Ave. Portland OR 97227
503-477-7079
On the heels of their 10th anniversary in business together, Hope Beraka and Christopher Gutierrez are ready to present their latest venture, North Light (3746 N. Mississippi Ave.). The restaurant and bar, which will serve up sophisticated comfort food and craft cocktails with a twist opened in April.
In envisioning what is destined to be a neighborhood hub in the thriving Mississippi district, Beraka and Gutierrez took a cue from their popular SE lounge, Night Light. "For a decade now we've welcomed anyone and everyone to enjoy inspired food and drink without the expense or attitude that can sometimes accompany it," Beraka says. "North Light is an evolution of that commitment: a back-to-basics, sincere, service-driven experience."
Executive Chef Lyle Jost's New American fare reflects a classic, no-fuss approach. Jost, whose Portland career includes tenures at Mint/820, Masu, and Fiddleheads, expands upon his current duties in the Night Light kitchen with an accessible mix of starters, salads and entrees that celebrate the Pacific Northwest spirit. Jost's menu will be bolstered by an original cocktail menu from Chris Bollenbacher, and house-baked pastries and bread from chef Julianne Richardson, formerly of Wildwood. In addition to dinner and late night offerings, North Light will bring the same care and attention to their weekend brunch service.
Inviting and thoughtful, the décor echoes the menu. "Think an austere nod to mid-1970's glam, without the kitsch," Beraka quips of its aesthetic. Complementing the interior is a patio that seats 50 comfortably. As with Chef Jost's menu, materials are sourced locally and sustainably whenever possible: modular wooden planter benches have been repurposed from the location's previous business and provide a warm, communal space for people-watching on Mississippi.
According to Gutierrez, "Simplicity and sophistication aren't mutually exclusive. That's North Light—excellence without airs."
Brunch: Weekends 9 a.m. – 2 p.m.
North Light is now offering brunch every weekend from 9 a.m. to 2 p.m. Try the special Stuffed House Made Pullman Bread French made with toasted farmers cheese, topped with shaved ham and cumin maple syrup, or the Vegan Tofu Scramble, a spicy mix of tofu, spinach, jalapenos, peppers and onions! See the menu at northlightpdx.com.
ABOUT NORTH LIGHT: Located in the heart of the vibrant Mississippi shopping district, North Light serves up a sophisticated twist on comfort food and drink. A signature New American menu appeals to discriminating palates in search of cuisine that is both refined and casual. Working with local purveyors for a distinctively Portland experience, proprietors Christopher Gutierrez and Hope Beraka are proud to present their latest neighborhood go-to spot – one that bucks pretense with contemporary flair, and a focus on the guest experience.
North Light is located at 3746 N. Mississippi Ave. Dinner will be served daily starting April 18th at 5 p.m., with Happy Hour at 4 p.m. and 10 p.m.-midnight. Weekend brunch will be served 9 a.m.-2 p.m. Saturday and Sunday starting April 26th. Learn more online at northlightpdx.com, or call 503-477-7079.