From our sponsors: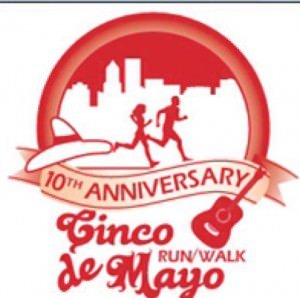 Cinco de Mayo Half Marathon, 10K & 5K Run
May 4, 2014
$29-99 | All Ages
More info: terrapinevents.com
Pioneer Courthouse Square
701 SW 6th Avenue, Portland, OR 97204
In 2014 the Cinco de Mayo race is starting on its second decade! The race prides itself on being locally produced and affordable for everyone and we hope you will come check it out.
You can choose from three great distances, a half marathon, 10k or 5k! All race participants receive two ice cold beers from Lagunitas, tasty food from Pepino's restaurant, live mariachi music and much more at this super-fun spring tradition! There are beautiful custom medals for all half-marathon finishers!
START TIMES:
6:30AM "DOORS OPEN"
7:45AM HALF MARATHON *15 min/mile pace time limit. No exceptions!
8:20AM 10K RUN / WALK
9:10AM 5K RUN / WALK
8:30AM KIDS' HALF MILER
ALL ADULT EVENTS INCLUDE A SHORT-SLEEVED, TECHNICAL RACE SHIRT!
Please register prior to April 23rd to guarantee sizing and shirt availability. After April 23rd, shirts are not guaranteed, although we will do our best to ensure everyone will receive a shirt in their preferred size. We will still offer our bamboo race shirts as an additional purchase. Please see below for more info on those.
2014 REGULAR PRICING
WED. JANUARY 22ND UNTIL TUES. APRIL 22ND AT 11:59PM:
$39 – 5k run/walk
$44 – 10k run/walk
Sliding scale- Half Marathon run/walk (suggested price $50-$99)
$99 – 5k or 10k VIP Experience
$139 – Half Marathon VIP Experience
$5 – Kids' Half Miler without a shirt
2014 LAZY LARRY'S POOP ON MY PARADE PRICING
WED. APRIL 23RD THROUGH RACE DAY
*Shirt sizing and availability not guaranteed to those who register after April 23rd
$44 – 5K run/walk*
$54 – 10K run/walk*
$99 – Half Marathon run/walk*
$8 – Kids' Half Miler without a shirt
ABOUT Candlelighters For Children with Cancer:
Candlelighters For Children With Cancer is a non-profit organization whose mission is to provide support, education, advocacy and hope to all children and their families affected by childhood cancer in Oregon and Southwest Washington. Established in Oregon in 1977, Candlelighters prides itself in providing multi-faceted frontline support and services to families throughout the different stages of pediatric cancer: initial diagnoses, treatment, post-treatment and even bereavement support. We are able to offer our members a wide array of free and effective support services because our board of directors and active volunteers represent the many faces of childhood cancer providing knowledge, experience and support to families in need.