From our sponsors: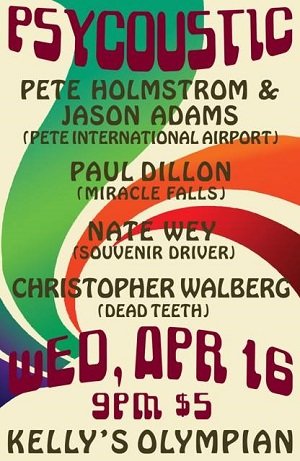 PSYCOUSTIC
April 16, 2014
9 p.m. | $5
More info: kellysolympian.com
Kelly's Olympian
426 SW Washington St, Portland, OR 97204
(503) 228-3669
Continuing with an ongoing line of unique and intimate (but not always quiet) local showcases, Kelly's Olympian presents Psycoustic: A night of songs by some of Portland's finest Psych Rockers.
The night features Peter G. Holmstrom (The Dandy Warhols) and Jason Adams of Pete International Airport, Paul Dillon (Mercury Rev / Sparklehorse / Silver Rockets) of Miracle Falls, Nate Wey of Souvenir Driver, and Christopher Walberg of Dead Teeth.
For a list of all the upcoming shows and events at Kelly's Olympian, see their calendar page 
kellysolympian.com
.