From our sponsors: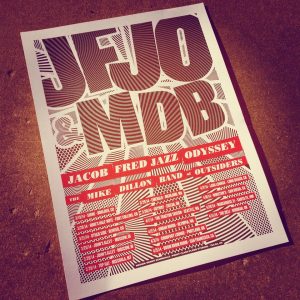 Jacob Fred Jazz Odyssey w/ Mike Dillon Band
April 3, 2014
9 p.m. | $10 | 21+
The Goodfoot
2845 SE Stark St, Portland, OR 97214
(503) 239-9292 | More Info: thegoodfoot.com
Here comes another great one! How many artists can claim being praised a "punk rock provocateur," "jazz vibraphone visionary" and "percussion virtuoso" in the same sentence? There's only one: Mike Dillon. Whether through his affiliation with artists like Les Claypool, Brave Combo and Ani DiFranco, collaborations such as Garage A Trois, The Dead Kenny Gs and Critters Buggin or bands he's fronted, including Billy Goat and Hairy Apes BMX, the Texas-native has set his own standard for 25 years now.
With his latest effort, Band of Outsiders—released via Brooklyn label The Royal Potato Family—Mike Dillon has perhaps conjured the perfect storm of all these past endeavors. His manic creative vision found its match in three young musicians he met in New Orleans. Carly
Meyers—whom Dillon describes as "a High Priestess of Trombone who channels the energy of Iggy Pop through the chops of JJ Johnson in second-line parade"—provides harmonic counterpoint to his vibes and percussion ("All Walks of Life") as she simultaneously ups the band's art-rock ante ("Carly Hates The Dubstep"). The rhythm section of bassist Patrick McDevitt and drummer Adam Gertner turns on a dime between snarling punk rock assaults ("Homeland Insecurity"), deep funky go-go ("Head"), ska grooves ("Here The Burro") and experimental hip-hop beats ("7AM At The Jazzfest") with all points covered in between.
Over the course of 20 years, 22 albums, and countless tours around the world, Jacob Fred Jazz Odyssey has become an institution in modern music. With their unique approach, JFJO has created a devoted following of music lovers and critics alike. Defined by evolution and change, the band has invented it's own improvisatory language, one which permeates JFJO's sound regardless of configuration. Though there is no Jacob or Fred, the last 20 years have been a Jazz Odyssey. Beginning in 1994 in Tulsa, OK as a funky octet with MCs and horns, JFJO became an instrumental trio in 1999, a quartet in 2007, and expanded to a 9-piece ensemble for 2011′s "Race Riot Suite." 2014 finds the band returning to the trio setting, with Brian Haas, Josh Raymer and Chris Combs producing the most modern and immediate music of the band's career.