We are giving away a pair of tickets to New Bums + Scout Niblett @ Lola's Room on April 9th. To win, comment on this post why you'd like to attend. Winner will be drawn and emailed Monday, April 7th.
FREE PORTLAND: We give out 100s of $$$ in free tickets every week including to many of the top music and art venues in Portland. Join our newsletter if you like free stuff!
———————————————
From our sponsors: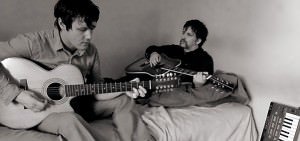 New Bums + Scout Niblett
April 9, 2014
7 p.m. Doors, 8 p.m. Show | $10 ADV, $12 Doors | All Ages
More info: mcmenamins.com
Lola's Room
1332 W Burnside St, Portland, OR
(503) 225-0047
New Bums is the grudging match-up of Donovan Quinn (Skygreen Leopards) and Ben Chasny (Six Organs of Admittance, Comets on Fire, 200 Years, Rangda and who's hiring?). They didn't like each other at first, but now make sweet and sour music together over the light of the magical Sterno. The ideas go back and forth between the two in what seems to be a true partnership. Their songs are all that: songs, with lyrics set in a space to speak to the human buried in you. People's music, with all the stark confessions, tall tales, bleak humours and punch lines the people can bear.
The voices are two, spinning harmonies, both heavenly. Behind the acoustics and voices is lots of space, but there are a few extra instruments that come and go as the boys move from stately processional to street corner sing-around to bluesy weeper to low-rolling rock 'n roll and back again. This is guitars music – slide-guitar lines erupt in the dark night air and classical-tinged filigrees curl around the tarnished and rusting edges throughout.
Picking their direction and floating along on a pair of acoustics, New Bums are the sound of Old Drunk America, dancing out of the shadows, coming forth again to stand in the light, in the hopes of re-populating those sad old single-occupancy hotels before they're all torn down. After releasing the "Slim Volume" single earlier this year, the duo is set to release debut full-length, Voices in a Rented Room, onFebruary 17th, 2014 via Drag City Records.
About Scout Niblett
Scout Niblett is Nottingham, England's answer to all the brash, intelligent, and honest female songwriters who emerged from America during the early 21st century.
Continually compared to Cat Power and fellow countrywoman PJ Harvey, Niblett (real name: Emma Louise) proved her own merit with a strong, stark voice and a penchant for spartan songs containing only drums and vocals. She also became known for her eccentricity, which included a fondness for wigs. Her lyrics, however, displayed a more serious side, creating their own place where love and its complementary senses ruled and took on their own lives. While often playing solo, Niblett also utilized a revolving cast of bandmates from time to time, as well as the frequent assistance of producer Steve Albini.
Taking her stage name from Harper Lee's famed novel To Kill a Mockingbird, Niblett first emerged as a musician in 2001, having contributed to a split 7″ with Songs: Ohia on the Indiana-based Secretly Canadian Records. Her first full-length, Sweet Heart Fever, soon followed. Another 7″ was released in 2002, and 2003 saw the release of both the I Conjure Series EP and I Am, the latter of which was recorded by the revered engineer Steve Albini at his Electrical Audio Studios in Chicago. An American tour in spring 2005 with the Kills coincided with the release of Kidnapped by Neptune, Niblett's debut for her new label, Too Pure. Continuing her partnership with Albini, she returned in October 2007 with This Fool Can Die Now (which also featured four duets with Will Oldham) and followed it up in 2010 with The Calcination of Scout Niblett, one of her most minimalist works to date. In 2013, she released the fiery, deeply personal It's Up to Emma. ~ Kurt Morris