From our sponsors: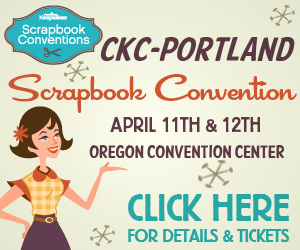 Creating Keepsakes Scrapbook Convention
April 11-12, 2014
Friday: 10 AM – 6 PM
Saturday: @ 9 AM – 5 PM
Tickets start at $6 | 2-day passes $13
Purchase tickets online HERE
Oregon Convention Center
777 NE Martin Luther King Jr. Blvd., Portland, OR 97232
(503) 235-7575
Do you love to scrapbook? Don't miss the Portland Creating Keepsakes Scrapbook Convention April 11th & 12th for a weekend full of scrapbooking fun!
Join us at the Oregon Convention Center to shop for the latest products, learn the newest scrapbooking techniques from industry experts, and craft with friends at the crops! Discounted tickets are available online now through April 7. Don't wait — tickets are full price at the door!
See www.ckscrapbookevents.com/portland – for additional event information and to pre-register today!
For the 16th consecutive year, Creating Keepsakes returns to Portland to host their annual scrapbook convention April 11-12, this year at the Oregon Convention Center. This event, frequently referred to as simply CKC-Portland is a weekend full of creativity and fun that includes education, shopping, and crafting.
Brooke Mathewson, Senior Event Manager for Creating Keepsakes stated, "There is something very unique about our Portland show; besides being one of our larger shows, attendees are often more diverse. Contrary to what many people think, scrapbooking is enjoyed by a variety of creative and crafty people."
There are three primary draws for scrapbook lovers at CKC-Portland. The first of these draws is the Vendor Faire. Leading manufacturers in the scrapping and crafting industry from all over the U.S. ship in their products, set up booths and allow attendees the opportunity to shop the current trends, latest designs, and newest lines; in many instances before these products are available to the general public. Many attendees opt to purchase an Early Bird Entry ticket allowing them to enter the shopping floor an hour before the show opens to shop before the crowd.
The educational opportunities at CKC-Portland act as the second draw, providing classes taught by trend-setting experts in the industry. Annette Hardy, Creating Keepsakes Educational Event Coordinator said, "Teachers at CK events know their stuff . . . they know products and materials.
Many people leave a CK class feeling like an expert, that is because of our wonderful teachers." Class attendees also get the opportunity to use the latest products and tools and in most cases, leave each class with a complete project.
All crafters have unfinished projects on their "to-do" lists which makes the CKC Crop the 3rd draw for CKC-Portland attendees. These crops are an informal gathering of scrappers simply looking to work on projects in a fun and creative environment.
In previous years, CKC-Portland has been attended by as many as 10,000 scrapbook lovers, Creating Keepsakes is optimistic that 2014 will yield similar numbers as they celebrate their 16th year in Portland.