We are giving away two pairs of tickets to the Joanna Priestley Retrospective on March 9. To win, comment on this post why you'd like to attend. Winner will be drawn and emailed Friday, March 7.
FREE PORTLAND: We give out 100s of $$$ in free tickets every week including to many of the top music and art venues in Portland. Join our newsletter if you like free stuff!
———————————————
From our sponsors: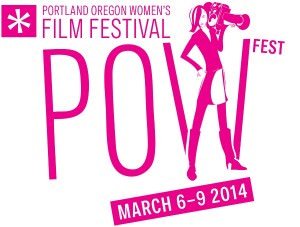 2014 POW Festival
March 6-9, 2014
Festival Pass $60 / See individual showings for prices
More info: powfest.com
Hollywood Theatre
4122 NE Sandy Blvd, Portland, Oregon 97212
(503) 281-4215 | More info: hollywoodtheatre.org
The Portland Oregon Women's Film Festival (a.k.a. POWFest) is pleased to announce the programming highlights of our upcoming festival scheduled to take place March 6 – 9, 2014 at the Hollywood Theatre.
In its 7th consecutive year, POWFest continues to be the only film festival in Portland exclusively placing a spotlight on women directors by showcasing their work and strengthening the community of women in film; and only one of a handful of festivals in the U.S. dedicated to women-directed film. Our goal is to shift the world of women in film, honoring the true pioneers while providing support and recognition for the next generation of leading women filmmakers.
In keeping with the organization's mission to directly impact the future of women in film, this year's festival will debut a new program aimed directly at local youth. "Despite some key wins for women in the film industry over the past couple years, sadly, there is no proof that demonstrates women's opportunities in any of the critical behind the scenes positions has materially improved in the past decade. We can't change the past, but we can work on improving the opportunities for our future female filmmakers. To that end, I am thrilled to announce the launch of a new skills building program developed with Portland Community Media and specifically designed for high school-aged youth called POWGirls. Over the course of three days–taking place during the 2014 POWFest–a group of selected girls will develop, produce, edit and present a film," shared POWFest Executive Director, Tara Johnson Medinger.
In addition to this exciting addition to the festival, POWFest's 2014 line up is diverse and compelling – from local and international features and shorts, to narrative and documentary, and even the innovative and youthful, as we incorporate the voices of our next generation of young filmmakers. Providing showcase programs for short films with themes like Quirky, Relationships, Animation & Experimental, they, among our features, will appeal to broad audiences with their humor, integrity, fun and thought provoking themes. A total of nearly 100 selections will screen over a period of 4 days, including Portland premieres of several feature films and one world premier.
As always, the schedule includes thought-provoking content to engage the audience through conversations with the over thirty directors in attendance; including local directors Kimberly Warner, Dmae Roberts, Samatha Pirnak, Alicia J. Rose, Teri Danielson and Sonia Halvorson – encouraging dialogue beyond the theater as well. Filmmakers attending are from such countries as the UK, the Russian Federation and China.
Each year, the festival honors a female pioneer in the filmmaking industry. This year, POWFest is proud to host local award-winning director, producer and animator Joanna Priestley. With nearly thirty films that explore abstraction, botany, landscape, aging and human rights, we will be sharing a retrospective of her work on Sunday, March 9, 2014 at 7 p.m. followed by a Reception.
In addition to films, there will be a Director's Panel and social events to network and participate in. Purchasing an all-access pass to POWFest gives you the opportunity to see as many films as you want during the festival without fumbling with individual tickets while saving money and showing your support. Festival pass includes access for early seating; admission to our Opening Night Party at VeloCult; Meet-the Directors 5-7pm on Friday 3/7; and Sunday's Closing Night Reception at the Hollywood Theatre, 9 pm.
For a complete list of programming and schedule details, See www.powfest.com.
Opening Night – Thursday, March 6th, 2014, 7:15 p.m., Hollywood Theatre
The Portland Premiere of REDEMPTION TRAIL, by director/writer Britta Sjogren, will open  our festival on Thursday March 6th at the Hollywood Theatre. The film stars LisaGay Hamilton, Lily  Rabe, Jake Webber and Hamish Linklater. Ms. Hamilton will be in attendance at the event along with  many of the crew including Director Britta Sjogren, Executive Producer Lisa Naito and composer Mark  Orton. Hamilton and Rabe star as two driven, imperfect women in this contemporary Western. From  opposite sides of the track they have nothing in common except a fatal pessimism about life, the legacy  of deep personal loss. But fate carves a bridge between the two outsiders — and, united in a grief that  sets them apart from the world, they form an unlikely, mythic alliance, seeking justice outside the law.
Immediately following the screening, make your way to the festival's Opening Night Party at  VeloCult located at 1969 NE 42nd Ave., just a few blocks from the Hollywood Theatre, starting at 9 pm,  with your special ticket + party stub or POWFest Pass.
Friday, March 7th, 2014, 5 pm, Hollywood Theatre
Meet the Directors Mixer begins at 5 p.m. at the Hollywood Theatre with your ticket for the  LUNAFEST Showcase or your festival pass – a fun chance to meet attending filmmakers.
SHORTS I (7:15 p.m.) – LUNAFEST – A traveling film festival of award-winning short films by,  for and about women comes to POWFest once again. This program of nine films – filled with  stories of reflection, hope and humor – will travel to over 150 cities and screen in front of 20,000  people raising funds to benefit local non-profits and the Breast Cancer Fund.
LA VALLEE DES LARMES (THE VALLEY OF TEARS) (6:45 p.m.): Narrative feature by Maryanne Ze'hil. Marie, a Montreal publisher specializing in memoirs by war survivors, receives the condensed story of a Palestinian who grew up in a refugee camp in Lebanon. Intrigued, Marie begins a journey in a small village, in the heart of a bloodstained culture. This film plays with MEI MEI (USA).
WHERE THE DARKNESS HAS TO RUN (9:15 p.m.): Celebrating its World Premier at  POWFest, by UK filmmaker Yolanda Barker, this film is seen through three Western ex-pats  living in India, exploring the motivations of people who leave their Western lives to embrace  spirituality, to practice yoga, meditation, and find answers to life's deep questions. The Western  media has dismissed these people as deluded, damaged, escapist and brainwashed. Have they  found the meaning of existence, or are they running away from a dark past?
A FRAGILE TRUST: PLAGIARISM, POWER, AND JAYSON BLAIR AT THE NEW YORK
TIMES (9:30 p.m.): Director Samantha Grant gives us the shocking story of Jayson Blair, the most infamous serial plagiarist of our time, and how he unleashed the massive scandal that rocked the
New York Times and the entire world of journalism in 2003. The fact that Blair is African-American
was emphasized again and again as accounts of the 'Blair Affair' served up sordid details in a soap opera style tale of deception, drug abuse, racism, mental illness, hierarchy, white guilt, and power struggles inside the hallowed halls of the New York Times. Featuring exclusive interviews with  everyone involved
Saturday, March 8th, 2014, 10 a.m. – 11 p.m. Hollywood Theatre — Celebrate Int'l Women's Day at
POWFest!
DIRECTOR'S PANEL (12 p.m.): "Beyond Gender" – A panel discussion with a few of our  international attending filmmakers will be held on Saturday at 12 pm at the Hollywood  Theatre, to address the filmmaking process world-wide and how women directors and  filmmakers fit into this formula – regardless or because of their gender. Free for POWFest  pass holders, $5 suggested donation otherwise.
SPRING & ARNAUD (2:00 p.m.): Documentary feature by Canadian filmmakers Katherine  Knight and Marcia Connolly, Spring & Arnaud is a tender and intelligent love story about  acclaimed Canadian artists Spring Hurlbut and Arnaud Maggs. Spring's art focuses on  mortality and the traces of what we leave behind. Arnaud Maggs remains fascinated by systems  of identification in massive installations. Their undying love for each other lights up the screen  as they face the reality of Arnaud's age and impending illness. It will be shown in an arts block.
TALES FROM THE ORGAN TRADE (2:30 p.m.): A gritty and unflinching descent into the  shadowy world of black-market organ trafficking: the street-level brokers, the rogue surgeons,  the impoverished men and women who are willing to sacrifice a slice of their own bodies for a  quick payday, and the desperate patients who face the agonizing choice of obeying the law or  saving their lives. Every year thousands of organs are bought and sold on a black market that  flourishes in dozens of countries where the rule of law is a hostage to the dollar sign. With  unprecedented access to all the players, the film explores the legal, moral and ethical issues  involved in this complex life and death drama. Documentary directed by Ric Esther Bienstock.
A SELF-MADE MAN (4:15 p.m.): A candid look at what it means to be transgender, told  through an intimate portrait of trans youth advocate Tony Ferraiolo. As Tony comes to terms  with all the complexities of his own life as a female-to-male transgender person, his story is  echoed by the kids in the youth group and their parents as they grapple with the reality of their  uncertain future. This is a story about someone who helps them get there safely, by award  winning documentarian and POWFest veteran Lori Petchers.
SHORTS II (4:45 p.m.) – Relationships Showcase: This program of six films explores all sorts  of relationships – not just romantic, but sibling, friendship and to oneself. (Mature topics.)
RUSSIAN FEDERATION FILMS – Two separate programs of Russian Films with attending filmmakers (tickets sold separately):
—– DOG'S PARADISE (7:00 p.m.): Directed by Russian director, Anna Tchernakova.  Moscow, summer of 1953, three months after the death of Stalin, and Tanya meets  Mitya, who just returned from exile in the Russian Far East with his family. He had to  leave behind his best friend, a dog named Hector, and decide to create the perfect home  for him. Discovering his family secrets, Tanya says nothing to Mitya, knowing that the truth can be hurtful, and that sometimes lies are necessary to protect a person.
—– LINAR (9:15 p.m.): Linar doesn't have a heart and a boy can't grow up without it. He  embarks on a journey to another country with a long and gradual initiation ceremony  for a boy to wait for the heart transplantation and to get accustomed to a new organ.  One by one his guardians accompany Linar from death to adult life. A documentary  feature by Russian Federations's Nastia Tarasova.
SMALL SMALL THING (7:30 p.m.) – Jessica Vail brings us to JFK Hospital in Monrovia, the  capital of Liberia. Olivia is 9 years old and the doctors conclude her condition is the result of a  brutal rape that took place when Olivia was 7 years old, and her diagnosis has severe  consequences. Originally from deep in the jungle, Olivia and her mother are stranded in  Monrovia at the mercy of President Sirleaf's government and the international community,  facing the most difficult decision of all. What price are they willing to pay for justice?
SHORTS III (9:30 p.m.) – Quirky Showcase: Join us for seven unique, fun, innovative,  surprising and delicious films. This amazing collection cannot be boxed. Toys grown up, yarn,  poison, chopping, familial politics, divorce and treasures galore! (Mature topics.)
Spring Forward Sunday, March 9th, 2014, 10 a.m. – 11 p.m. – Hollywood Theatre
SHORTS IV (12:00 p.m.) – Animation/Experimental Showcase: This mixed program includes  several forms of animation – from old-fashioned hand-drawn films to molded stop motion. On  the experimental side, we find innovative ways to look at our world. (Mature topics.)
MY LONG NECK (12:30 p.m.): Maja is proud of the 16 coils of brass around her neck that  distinguish her as a 'long neck' Kayan woman from Burma. But after 20 years of living on  display in a tourist village in Thailand, she feels the rings becoming more a trap than a source of  pride. When a chance meeting with an Australian filmmaker Shalom Almond puts a video  camera in her hands, she decides to turn the lens around and make a film about what it means  to live in a 'human zoo,' and inspires the ultimate act of rebellion.
FAMILY FRIENDLY AFTERNOON – Serving up an afternoon of family friendly programming  everyone can enjoy.
—– SHORTS V (2:15 p.m.) – Family Showcase: Featuring ten family friendly films from  three continents, which include animation, balloons, luck and dreams!
—— SHORTS VI (4:15 p.m.) – Youth Film/POWGirls Showcase: Submitted by our future  filmmakers, these shorts are by a talented group of 18 and under. Among insightful  documentaries, stories of love, and animation, we are proud to feature POWGirls' first  production, created over the previous three days.
ABOUT FACE: The Story of Gwendellin Bradshaw (2:30 p.m.): On a chilly Alaskan summer  night in 1980, 10 month old Gwendellin was placed on top of a campfire by her mentally  distraught mother. Given a 50-50 chance of surviving, she barely made it. Now, 24 years later,  Gwen is left with figuring out how to live with her physical and emotional scars and believes  that finding mom is central to her healing. Mary Katzke allows us to meet this amazing young  woman, who will be attending the festival.
SHORTS VII (4:45 p.m.) – It's Generational Showcase: Featuring some amazing international  (UK, Spain, Burkina Faso and China) along with US films in this block, these beautiful projects  explore the complexity of interactions among generations – especially parents and children.
POWFest Guest of Honor Showcase – JOANNA PRIESTLEY RETROSPECTIVE (7:15 p.m.): A  special retrospective of award-winning animator Joanna Priestley's films followed by an  extended Q&A regarding her work in the world of animation. She has directed, produced and  animated 27 films that explore abstraction, botany, landscape, aging and human rights. She is a  member of the Academy of Motion Picture Arts and Sciences. Her studio, Primo Pix, is in  Portland. The Closing Nigh Reception will follow.
GIDEON'S ARMY (7:15 p.m.): Three young public defenders who are part of a small group of  idealistic lawyers in the Deep South challenging the assumptions that drive a criminal justice  system strained to the breaking point are followed. Backed by mentor Jonathan "Rap" Rapping,   they struggle against long hours, low pay and staggering caseloads nearly 50 years since the  landmark Supreme Court ruling Gideon vs. Wainwright. Dawn Porter directed this  documentary feature, a veteran of Tribeca and Sundance.
AUDIENCE CHOICE AWARD! (9:15 p.m.): POWFest's final film – or films – will be the  audience favorite of the four day festival