We are giving away a pair of tickets to Bag & Baggage Presents Lear @ The Venetian Theatre in March. To win, comment on this post why you'd like to attend. Winner will be drawn and emailed Friday, March 14.
FREE PORTLAND: We give out 100s of $$$ in free tickets every week including to many of the top music and art venues in Portland. Join our newsletter if you like free stuff!
———————————————
From our sponsors: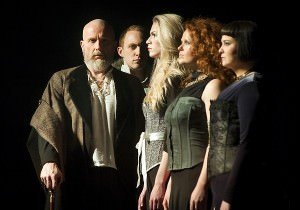 Lear
March 6-23, 2014
Thursdays-Saturdays 7:30 p.m. | Sundays 2 p.m.
$20-30 | All Ages
Tickets: bagnbaggage.org
The Venetian Theatre
253 E Main St, Hillsboro, OR 97123
(503) 693-3953 | More info: venetiantheatre.com
The story of the mad king and his faithless daughters told by William Shakespeare in King Lear is, in fact, a much older tale. Shakespeare relied on a number of older sources for his play, including the anonymous play The True Chronicle History of King Leir and His Three Daughters which was published and performed 12 years before the first recorded production of the Bard of Avon's sweeping political tragedy.
Bag&Baggage Productions' Artistic Director Scott Palmer returns to this original source material as the inspiration for his major adaptation of King Lear, simply entitled Lear, opening at the Venetian Theatre in Hillsboro on March 6 and running through March 23, 2014.
"I originally adapted the play in 2003 when I was the Artistic Director of Glasgow Repertory Company in Scotland," said Palmer. "My main interest in the original King Leir was in how much smaller and more intimate the family tragedy was portrayed. Shakespeare took that family tragedy and expanded it into a much grander, much more political tale, but at the heart of the story is a great man destroyed by age and madness and the impact that has on his children. Our Lear tells that story."
Performed twice in Scotland (once in 2003 and again in 2005), the play was hailed by The Scotsman Newspaper as a "21st Century Lear to cherish" and "it's rare to see a production that engages so thoroughly and creatively with the substance of a great Shakespeare text."
Lear features a cast of only 5 actors who play King Lear, his three daughters (the beloved Cordelia and her less-favored sisters Goneril and Regan) alongside the nearly forgotten character of Perillus (featured in the original sources) who is Lear's foster son and was the inspiration for Shakespeare's character Kent. Lear contains many of the original storylines from Shakespeare's original, but is much more focused on the intimate family dynamics between Lear and his daughters as they grapple with the implications of their father's madness and the chaos it creates within their lives and the kingdom. The many subplots around Edmund and Edgar have been cut, replaced with snippets of a range of original materials and texts inspired by Shakespeare.
Adding to the power of the performance will be an original score composed by Tylor Neist, performed live each night by members of Bridgetown Orchestra. Neist composed and performed the critically acclaimed score for one of Palmer's other adaptations, Kabuki-Titus, in the summer of 2012. Neist was also recently seen as the Fiddler in Portland Center Stage's Fiddler on the Roof, performing live during each performance.
"It is a complicated process," said Palmer who has a growing reputation for re-imagining lost Shakespearean adaptations. Palmer's previous work has included a glam-rock restaging of the Restoration-era version of Dryden and Davenant's The Tempest, or the Enchanted Isle and a black and white 1950s television version of John Dennis' 16th century retelling of The Merry Wives of Windsor. "There are so many places to look for Shakespeare's inspiration, and so much incredible and interesting material out there, and that is all before you start adding in live music and an original score."
Among the other sources Palmer used were Geoffrey Monmouth's 1135 text The History of the Kings of Britain, Raphael Holished's Chronicles written in 1577, Edmund Spenser's The Faerie Queen from 1590 and the later, Georgian-era adaptation King Lear's Wife by the nearly completely forgotten playwright Gordon Bottomley.
"It's like a jigsaw puzzle," says Palmer. "There are all of these amazing pieces of text, snippets of long forgotten poetry and verse, all of which influenced and shaped Shakespeare's tale. I love the challenge of putting them back together and seeing what kind of new picture will be made."
The production stars Kevin Connell (recently seen as Henry Higgins in Broadway Rose's production of My Fair Lady and as Antony in Antony and Cleopatra for Northwest Classical) in the title role. Joining Kevin in the cast are Stephanie Leppert (most recently seen in White Christmas at Lakewood Theatre and as Portia in Bag&Baggage's all-female Julius Caesar) as Cordelia, Rebecca Ridenour (who played Brutus in B&B's Caesar and has performed with Solwelu Theatre, Post5 and Northwest Classical) as Goneril, Jessi Walters (who played the Soothsayer in B&B's Caesar and has performed with Oregon Repertory Theatre and Northwest Children's Theatre) and Benjamin Farmer (a Bag&Baggage Resident Acting Company Member who has been seen recently in B&B performances of Rough Crossing, Kabuki-Titus and A Christmas Carol) as Perillus. Scenic Design by Megan Wilkerson (who has designed most recently for ART's Xmas Unplugged and B&B's It's A (somewhat) Wonderful Life and The Great Gatsby) with costume designs by Bag&Baggage's Resident Costumer Designer Melissa Heller.
Lear opens on March 6, 2014 and runs until March 23, 2014 at The Venetian Theatre in downtown Hillsboro. More information can be found online at www.bagnbaggage.org or by calling the Bag&Baggage Box Office at 503 345 9590.