From our sponsors: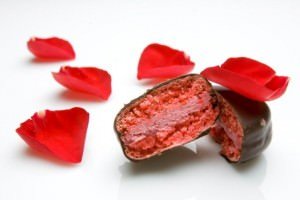 Find the Hidden Diamonds on Valentine's Day
February 14, 2014
10 a.m. – 2 a.m.
More info: pixpatisserie.myshopify.com
Pix Patisserie
2225 E Burnside St, Portland, OR 97214
(971) 271-7166
Valentine's Day, a single chocolate gift box at Pix will not only have a delicious assortment of Pix chocolates, but a pair of diamond stud earrings as well! Shop early!
Booze is for Lovers
Chardons are a shot of top shelf booze with a chocolate chaser! They are fabricated in an ancient and time consuming method – liquor syrup fills impressions made in a box of starch and are left to crystallize for 36 hours, creating a fragile sugar shell with a boozy liquid center. Then dipped in 75% dark chocolate. Eat these with napkin in hand!
Four piece gift box $15:
Boulard VSOP Calvados
Barbancourt 15 Year Rum
Blanton's Single Barrel Bourbon
Glenmorangie 12 Portwood Scotch
Moulin Rouge ~ Heart shaped strawberry mousse, strawberry pâte de fruit, coconut meringue and a black pepper studded almond cake. $7.25
Truffle Heart ~ A single caramel almond truffle and cinnamon macaron base are hidden in a heart of chocolate mousse and a dark chocolate glaze. $7.25
St. Honoré for St.Valentine ~ Puff pastry filled with raspberry pastry cream, chocolate covered pop rocks and crème Chantilly. Topped off with rose macarons, fresh raspberries and a single red rose petal. Be Mine? $8.75
Heart Shaped or Chocolate Covered Cherry Macarons
Hearts – Chocolate, Raspberry or Fleur de Sel Caramel. $2.50 or$30/dz
Chocolate Covered Cherry $3.50 or $42/dz