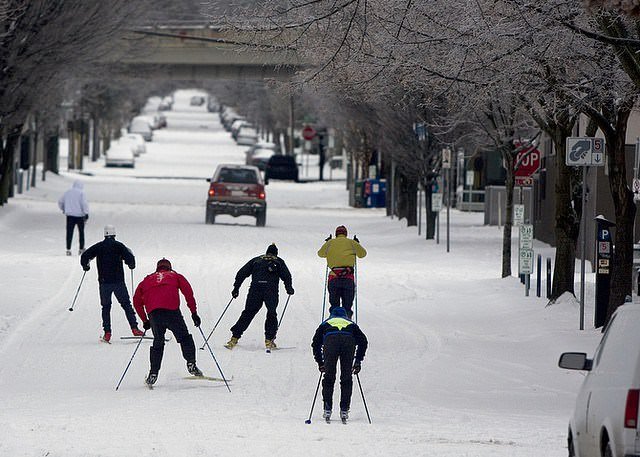 Suit up! Enough snow has fallen that the legendary Stumptown Birkebeiner is back! After laying dormant since 2008, enough snow has fallen in Portland to revive the winter event. The Olympics might be starting this week in Russia, but the real sports are happening in Downtown Portland.
FREE PORTLAND: We give out 100s of $$$ in free tickets every week including to many of the top music and art venues in Portland. Join our newsletter if you like free stuff!
———————————————
Related Portland Events & Info
———————————————
From website: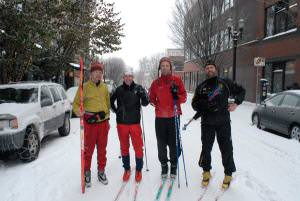 Stumptown Birkeneiner
Friday, February 7 | 9 AM
Get updates at stumptownbirkebeiner.org
The event starts and finishes @ Powell's City of Books
1005 W Burnside St, Portland, OR 97209
It is nothing less than an informal, impromptu ski race and parade open to anyone, starting and finishing at Powell's City of Books and going through downtown Portland's Pearl District. The race is declared any time there is enough snow to ski. The event has taken place once before, in December 2008.
New to urban skiing? Here's some background, based on our 2008 adventures.
The rules:
1 – Wear something colorful
2 – Speak Swedish or Norwegian
3 – Yield to large motorized vehicles (like cars, buses, street cars)
4 – Have fun
5 – Promise to come to the next one (which may be Saturday morning)
A possible course will be posted later tonight. It will likely go down to the North Park blocks, up around the north end of the Pearl, and back down 11th to finish at Powell's where we started.
More info: http://stumptownbirkebeiner.org
————————————
Our new Portland Events App for PDX Pipeline is now available for iPhones, Android phones and iPads!
Now, you can have all of the great Portland events from our website in the palm of your hand when you're out on the town.
–————————————
—————————————————–