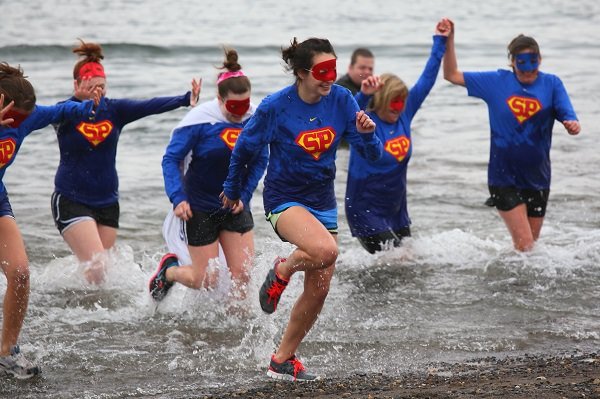 Another event keeping Portland weird (and cold) is happening on the Columbia River! The 2014 Polar Plunge has been rescheduled for Saturday, March 1, at Broughton Beach. There were more than a thousand participants last year raising over $500,000 for the Special Olympics.
FREE PORTLAND: We give out 100s of $$$ in free tickets every week including to many of the top music and art venues in Portland. Join our newsletter if you like free stuff!
———————————————
Related Portland Events & Info
———————————————
From press release: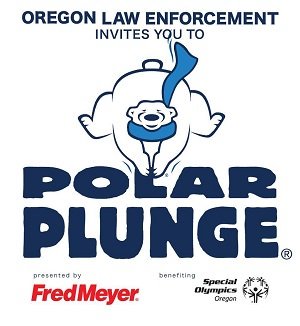 2014 Polar Plunge
March 1, 2014
11 a.m. | FREE | All Ages
@ Broughton Beach in NE Portland (Google maps)
More Info: www.plungeoregon.com
On March 1 more than 2,000 people will take turns plunging into the icy Columbia River at NE Portland's Broughton Beach. It's an unusual scene for an overcast Saturday in winter, but the state-wide annual Oregon Law Enforcement Polar Plunge for Special Olympics Oregon (SOOR) presented by Fred Meyer will raise more than half a million dollars for athletes with intellectual disabilities.
In 2014, five Oregon cities will host similar plunges with nearly 4,000 participants total. "Polar Plungers" in Eugene and Corvallis will sprint into the Willamette River. In Medford they'll jump into an unheated outdoor pool. And in Bend, they'll brave the icy Deschutes River. Each plunger will have raised a minimum of $50 in pledges from friends and family for the privilege of running into the water. Most won't stop at $50, and an elite cadre of Super Plungers, who've raised between $2,000 and $3,000 each, will enter the water in Corvallis and Portland once an hour for a twenty four hour period.
In addition to the Plunge, the Portland event will also include a 5K Polar Plunge Fun Run/Walk. The race will begin at 9AM near the Portland Airport Economy Parking Red Lot, proceed along the Columbia River on Marine Drive, and end at the Polar Plunge site. Runners must raise a minimum of $25 to run or $50 to run and Plunge.
————————————
Our new Seattle Events App is available for iPhones and Android! Now, you can have all of the great Seattle events and ticket giveaways from the website in the palm of your hand when you're out on the town.
–————————————
—————————————————–
Polar Plungers can participate as individuals or recruit a group of friends to run into the water as a team. Many businesses have used it as a team-building exercise and community service project for their employees.
In Portland the Portland Police Bureau will be joined by officers, personnel and support from Multnomah County Sheriff's Office, Port of Portland Police Department, Troutdale Police Department, and Oregon Air National Guard. Several hundred Law Enforcement officers from nearly 30 agencies will be taking the plunge state-wide.
The Portland plunge is also made possible by the generous support of local sponsors: Les Schwab, Lithia Dealerships, Coca Cola, Deschutes Brewery, Mattress World NW, Starbucks Coffee Company, Chipotle, Pemco, Oregonians Credit Union, KGW-TV, KINK-FM, Live 95.5 FM, and 98.7 The Bull FM.
People wishing to take the Plunge and/or do the 5K Fun Run/Walk for Special Olympics Oregon can register online at PlungeOregon.com. Those who don't want to go into the cold water can support another plunger or team, or they can take the "Too Chicken to Plunge" option. Details are on the website.
Portland Polar Plunge Pictures
View 2013 & 2012 set on the Polar Plunge's Facebook Page!