Update:

This event has been postponed until 2015.

——————-

From our sponsors: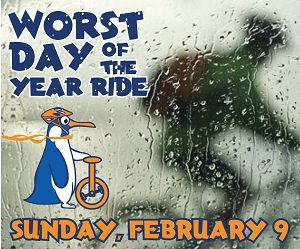 Worst Day Ride
February 9, 2014
$36.50 Adults / $11 Children | All Ages
More info: worstdayride.com/
Lucky Labrador Brew Pub
915 SE Hawthorne
On February 9, don't be surprised if you see hordes of penguins riding bikes through the streets of Portland; It's time for the 13th Annual Worst Day of the Year Ride. This hilarious ride is one of those "Keep Portland Weird" events that draws huge crowds for a zany day – and you don't want to miss it.
In 2000, it was a challenge to get 250 people to pull their bikes out of the garage for a blustery wintertime bike ride, but these days thousands of spirited souls eagerly hit the streets for this annual tradition.
Enjoy a day pedaling through the streets of Portland on low-traffic streets, taking in the sites, stopping at frequent rest stops for snacks, and snapping pictures with your friends. At the end of the route you'll return to the Lucky Labrador Brew Pub for a finish line beer garden and scratch-made soup freshly prepared by Laughing Planet Cafe. Relax with all your friends and revel in the day, it's going to be a good one.
HOT TIP: Save $5 when you pick up a coupon, locations can be found on the ride's website.