From our sponsors: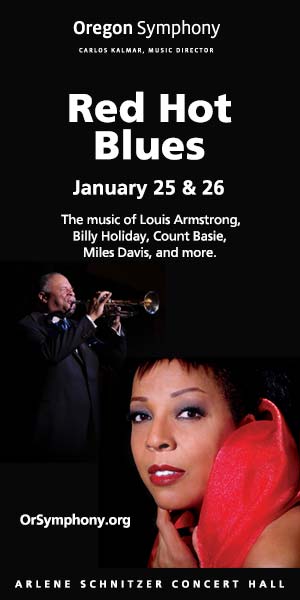 Red Hot Blues w/ Oregon Symphony
Saturday, January 25, 2014 | 7:30 pm | Tickets
Sunday, January 26, 2014 | 3 pm | Tickets
$22-$98 | More info: orsymphony.org
Arlene Schnitzer Concert Hall
1037 SW Broadway, Portland, Oregon 97205
Talk about red hot! The music of Louis Armstrong, Billie Holiday, Count Basie, Miles Davis, and more with vocal powerhouse Dee Daniels, trumpeter Byron Stripling and the entire Oregon Symphony. Ain't nothin' to be blue about here!
– Jeff Tyzik, conductor
– Dee Daniels, vocals
– Byron Stripling, trumpet/vocals
– Jim Pugh, trombone
– Bobby Floyd, piano/organ