From our sponsors: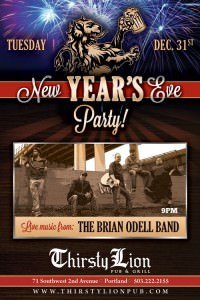 New Year's Eve Party w/ Brian Odell Band
December 31, 2013
9 p.m. | 21+
Thirsty Lion Pub
71 SW 2nd Ave, Portland, OR 97204
(503) 222-2155 | More Info: www.thirstylionpub.com/portland
Thirsty Lion and Brian O'dell are throwing a NYE party you don't want to miss. Live music, cold beer and great drinks-bring on 2014!
The Brian Odell Band was born from numerous informal jam sessions between mutual friends. Odell and Ritchie had performed together on numerous occasions between 2001 – 2003 which helped form the foundation of the new band. When The Soulshaker and Odell started collaborating, there was now more of a sense of urgency to finally put together a new, unique band.
After a few discussions on who to enlist as the drummer, Nick Clearwater helped recruit Josh Hackett. After a couple of admittedly questionable jam sessions, the sound of The Brian Odell Band came together. Mixing the tried and true formula of the singer/songwriter with infectious drum rhythms, funky yet melodic bass lines and fresh flavor of turntables, steel drum and percussion puts The Brian Odell Band in a genre all it's own. You're sure to find something you love about the sound and style of a band that is a welcome breath of fresh air to the Portland music scene.