From our sponsors: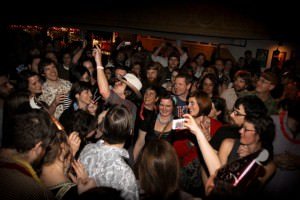 New Year's Eve 2013 w/ McMenamins
December 31, 2013
More info: mcmenamins.com
——————
2014 New Year's Eve at Kennedy School
Urban Sub All Stars w/ Mosley WOtta, Tony Smiley, Redwood Son
w/ Free Music by Freak Mountain Ramblers
9 p.m. | $15 ADV / $20 Doors | 21+
More info: mcmenamins.com
Tony Smiley: Since  2000, Tony Smiley has captured audiences with his unique beats. This musical savant loops his way through a unique genre of music that you won't find anywhere else. All with witty, engaging, and energetic stage presence. His cosmic dance of electric melodies mixed with world beats, Mongolian throat singing and beat-boxing have earned the Loop Ninja a cult like following who repeatedly embark on his musical journey.  Creating each track with a raw, primal and  pulsating connection between rich sounds and passionate lyrics.
Redwood Son: Whether or not the name and music of Redwood Son has yet hit the big radar, this year's "Best New Artist" of the Portland Music Awards is on the rise. Their 20 Song double-disc debut, The Lion's Inside, boasts a dynamic versatility that crosses the borders of their West Coast Americana with hook-laden roots-rock and alt.country, while maintaining an authentic Universal "Pop" vibe.
Freak Mountain Ramblers: Portland's own Freak Mountain Ramblers bring a rollicking brand of rock 'n' roll, bluegrass, alternative country and country-blues to every show they play. With a lineup including three members of the inimitable and notorious Holy Modal Rounders / Clamtones amalgamation of the '70s and '80s, Freak Mountain Ramblers has its roots in the underbelly of the alternative music scene that existed at that time, both in Portland and across the country.
——————————————————————
2014 New Year's Eve at Grand Lodge
Free Music by John Bunzow &  McDougall
9 p.m. | Free | 21+
More info: mcmenamins.com
John Bunzow: Portland, Oregon native John Bunzow has been called one of the finest writers and roots-musicians on the current music scene. Producer Pete Anderson (Dwight Yoakam, Meat Puppets, Steve Forbert) said he is "… without doubt the best artist I've heard in recent times." Chicago Tribune columnist Jack Hurst cites Bunzow with mixing "the rootsy with the revolutionary."
McDougall: With his imagination often dwelling in the very real places of his past and present, as well as in the possible future, McDougall's songs may very well seat you by a coffee-can fire in the middle of a dry California river-bed, pull you up onto a freight train in the lush spring-time of the Pacific northwest, raise your voice in hymns with the entire family on a Thanksgiving afternoon, or haste your good-bye to civilization as you know it, as you ramble on with all you possess on your back.
——————————————————————
2014 New Year's Eve at Hotel Oregon | 310 N.E. Evans Street, McMinnville
Free music by Billy D, Kris Deelane & Sharp Little Things
9 p.m. | Free | 21+
More info: mcmenamins.com
Billy D: A recent "Best New Act" winner, Billy Desmond (Billy D) melds blues, rock, and at times nuances of country to create an "Original Backbeat Roots" style of music that has fueled timeless rock icons like ZZ Top and The Rolling Stones. Billy was born on the south side of Chicago where he grew up surrounded by the Blues, and being a child of the early Rock 'n' Roll era, the two influences blended into a powerful potion. He started playing professionally at teen dances and parties at the age of fourteen. By the age of eighteen, he was sneaking into the blues clubs of Chicago to hear such greats as Muddy Waters, Junior Wells, Buddy Guy, and James Cotton. Over the next ten years, he would work as a guitarist for Junior Wells, Big Time Sarah, and Detroit Junior.
Kri Deelane & Sharp Little Things: Raised in suburban Los Angeles during the punk rock era, Deelane's influences were diverse – from The Beatles and Neil Young to The Pretenders, X, and The Plasmatics (Wendy O. Williams was a favorite). The sense of righteous defiance coupled with a tragic flair resonated in her, and continues to inform her music, art and style.