From our sponsors: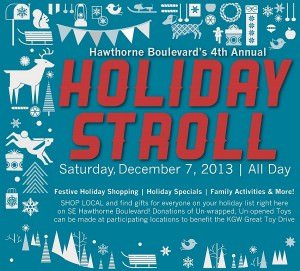 Fourth Annual Hawthorne Boulevard Holiday Stroll
December 7, 2013
All Day | FREE | All Ages
More info: thinkhawthorne.com
The Hawthorne Boulevard will be filled with holiday cheer on Saturday, December 7 as it celebrates its Fourth Annual Holiday Stroll.
The Hawthorne Boulevard will be lit up with festive decorations and businesses will be offering additional incentives for shopping on this day. Each year the Hawthorne Boulevard Business Association (HBBA) also selects a local charity to benefit from the festivities. This year, the HBBA elected to join KGW's Toy Drive and set-up collection sites along the Boulevard.
The following businesses will be offering additional discounts or treats when a customer drops off an unwrapped new toy at one of the following collection sites:
Bazi | 1522 SE 32nd Ave.
Cassidy Jewelry | 3562 SE Hawthorne Blvd.
Mag-Big | 3279 SE Hawthorne Blvd.
Metro | 3525 SE Hawthorne Blvd.
Presents of Mind | 3633 SE Hawthorne Blvd
Wells Fargo | 3782 SE Hawthorne Blvd
Through a grant from Venture Portland, the HBBA created a Holiday Gift Guide with lots of ideas, listing of events, and discounts taking place on Saturday. Copies will be made available through Thursday's Portland Mercury or can be picked up at participating locations.
Download the Gift Guide here –> Hawthorne Boulevard Holiday Stroll Gift Guide
The Hawthorne Holiday Stroll is brought to you by the following sponsors and business volunteers: HBBA Members, Venture Portland, Bazi Bierbrasserie, Fred Meyer, Imelda and Louie Shoes, Mag Big, Memento PDX, New Season's, and Por Que No?.
For more information visit www.thinkhawthorne.com or call Hilda, HBBA media contact at 503-522-3672.