Photo By Squid Vicious
The Santacon in North Portland, otherwise known as the NoPdx Anticon, takes place on December 7th, 2013. As always, the starting point will be the Paul Bunyan statue. You can also see pictures and video from previous years below. If you are looking for a cheap Santa suit, you can usually find one at Walgreens.
———————-
Related Holiday Events & Info:
–––––––––——————————––——–––
2013 North Portland Santacon Info, Rules, & More:
From website: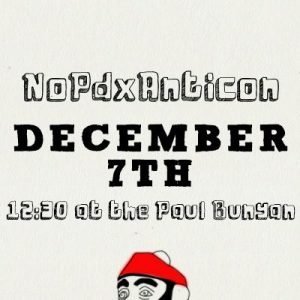 North Portland Santacon (NoPdx Anticon)
Saturday, December 7, 2013 | 12:30-?
Meet at Paul Bunyan Statue at 12:30PM
Website: http://nopdxanticon.wordpress.com/
Facebook: https://www.facebook.com/events/668117779888396/
———–
Portland's Santacon had gotten too big for it's stockings. One year's event topped 1000 Santas. Rumor has it that the counting went 998, 999, 1000…and after that counters gave up and just started using profanity.
Santacon had gone from a prank to an army of Santas, many of them fair-weather Santas looking for an entertainment experience; tourists; spectators screaming "Here we are now, entertain us!". The organizers had no interest in babysitting hundreds of such people, so future events were decidedly harder to find out about, see the great Hillsboro Santacon.
In protest/ friendly mockery of the downtown Santacon situation, a rogue group of Santas started ANTI-con in North Portland. Santa started being protested by Bananas. For several years, Santa caroled the house of then-mayor Sam Adams.
Some things to keep in mind (copied from the UK Santacon)
1-The "route and schedule" is open to liberal interpretation by Santa at all times. There is no head Santa in charge to call. If you can't show up for the start or get lost, get the mobile number of someone who can help you catch up later. Depending on the year there may be guiding Santas, tags to follow or some technological Santanav system, or you may wish to come up with your own idea to help Santas find their way.
2-Santa dresses for all occasions. It's December. Smart Santas wear layers. Dress to maximize merriment whether singing Christmas carols in the snow, or dancing manically in the shopping centre.
3-Santa doesn't whine! We will be outside much of the early day and covering a lot of ground on foot – bring a bottle of water and enough "snacks" to keep your pie-hole filled until we get indoors.
4-Bring small gifts – NAUGHTY gifts to give grown ups; NICE stuff to give kids. Visit a pound shop, wrap up coal, sweets and brussels sprouts; Santa loves stickers, hug vouchers and mistletoe.
5-Watching Santa get drunk can be fun. Babysitting Santa while they vomit in an alley or breaking up fights is not. Don't be that Santa. You are responsible for yourself! Pace your drinking and be nice to your fellow Santa.
6-Twisting the Christmas paradigm until it screams for mercy is fun! Getting arrested is not. Have your own special surreal fun, but DON'T F*CK IT UP FOR THE REST OF US. Santas do not destroy property, steal merchandise, or do harm to others. The authorities and local businesses usually take Santa's antics in the loving, festive spirit that Santa intends, if we are nice to them.

——————————————————–
Our new Portland Events App for PDX Pipeline is now available for iPhones, Android phones and iPads!
Now, you can have all of the great Portland Events & Ticket Giveaways from our website in the palm of your hand when you're out on the town.
————————————
—————————————————–
More North Portland Santacon (NoPdx Anticon) Pictures: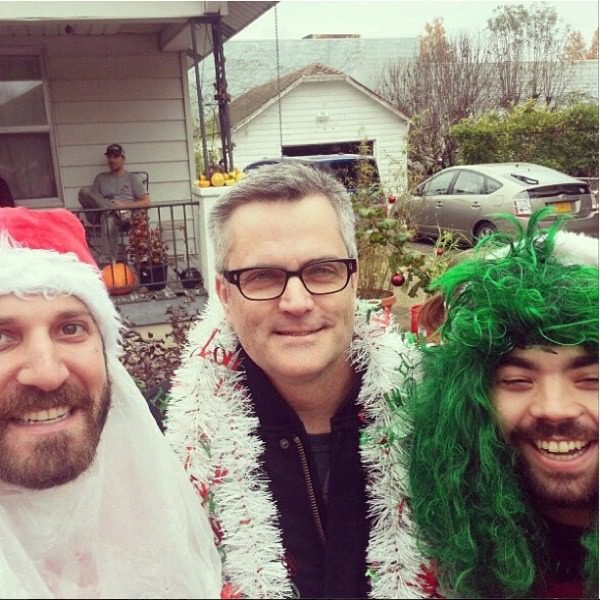 [Sam Adams and Santacon participants | Photo by @danwuzhere]

Photo by Kat Cole

Photo by Kat Cole

Photo by Kat Cole

Photo by Kat Cole

Photo by Kat Cole

Photo by ohhh_yeah808

Photo by scott mazariegos

Photo by Kat Cole

Photo by ohhh_yeah808

Photo by ohhh_yeah808

Photo by ohhh_yeah808

Photo by jupiterjuniper

Photo by jupiterjuniper
You can see many more pictures in the Flickr group here.
——————————————————
Video: SantaCon 2010 Portland