We are giving away a pair of tickets to The Village People + Ancient Heat @ Crystal Ballroom on November 30. To win, comment on this post why you'd like to attend. Winner will be drawn and emailed Friday, November 29.
FREE PORTLAND: We give out 100s of $$$ in free tickets every week including to many of the top music and art venues in Portland. Join our newsletter if you like free stuff
———————————————
From our sponsors: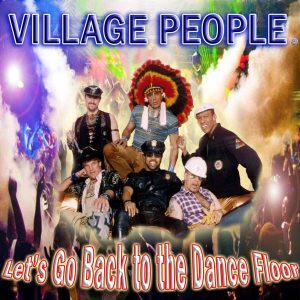 The Village People + Ancient Heat
November 30, 2013
7 p.m. doors / 8 p.m. show | $35 ADV / $40 Doors | 21+
Tickets: crystalballroompdx.com
Crystal Ballroom
1332 W Burnside St, Portland, OR 97209
(503) 225-0047
Village People
Now in their 36th Year!
Beginning their 36th year as the "kings of disco", Village People in recent years performed a full schedule of fairs, festivals, universities and casinos throughout the United States as well as Canada, Brazil, France, Japan, Finland, Belgium, Spain, Italy, Romania, Australia, Mexico and Poland.
Selling more than 100 million recordings, Village People were an instant phenomenon in the '70s and '80s with hits San Francisco/In Hollywood, Macho Man, YMCA, In the Navy, Go West , Can't Stop the Music and more.
In the summer of 2013, Village People added a new single to their show:"Let's Go Back to the Dance Floor". This crowd pleaser is available on i-Tunes and Amazon.com and was written and produced by KC of "Sunshine Band" fame.
Recent TV commercials have included the iconic group of 6 men, including American Express (with Beyonce and Ellen Degeneres), Wonderful Pistachios and Miracle Whip (with Susan Boyle, Lance Bass and Wynona Judd). They were also recently seen on TV on the Arsenio Hall Show, Fox's Wendy Williams Show and NBC's "Singing Bee" with Joey Fatone. Past performances include the Jay Leno Show the Rosie O'Donnell Show, Oprah, Dick Clark's New Years Eve celebration and Married with Children.
Village People starred in their own 1980 major feature movie Can't Stop the Music co-starring Steve Guttenberg, Bruce Jenner, Valerie Perrine, Paul Sand, June Havoc, Tammy Grimes and directed by Nancy Walker. It remains a popular cult film around the world.
In September 2008, Village People finally received a "Star" on the Hollywood Walk of Fame – between Betty Grable and Liberace! The group has won many worldwide awards including the American Music Award-Favorite Musical Group 1979, AGVA's Georgie Award, West Germany's Gold Lion Award for music excellence, Brazil's 1981 Award for Best Act, etc.
Their hits have been heard on dozens of major motion pictures including Up Periscope, Wayne's World II, Adams Family Values and In and Out. Their own film Can't Stop the Music is celebrating its 30th anniversary in 2011 as a world-wide cult favorite. They were also featured in advertisements for "Trivial Pursuit's 20th Anniversary Edition (they are also featured as a question).
They were half-time entertainment for Australia's Rugby Grand Finals, seen by more people than the Super Bowl in America. Their music is played during the seventh inning stretch at dozens of baseball stadiums and they often entertain sports fans with live performances following basketball, soccer and hockey games as well. At the final All-Star Game in the "old" Yankee Stadium, they performed "YMCA" with the groundskeepers.
Village People are Ray Simpson (Cop & lead singer), Alexander Briley (G.I./Military), Felipe Rose (Native American Indian), Bill Whitefield (Construction Worker), Jim Newman (Cowboy) and Eric Anzalone (Biker).
The one-of-a-kind Village People is synonymous with dance music. These six talented men combine energetic choreography with outrageous fun and lots of bumping and grinding, singing and dancing, and provide great entertainment for all!
Ancient Heat
Ancient Heat is a large ensemble dance band, formed in 2010 by bassist and mastermind producer Brendan Grubb. The 10-piece powerhouse revels in an exhilarating mixture of west coast funk, disco, and R&B, merged with the infectious polyrhythms of African pop and a healthy dose of psychedelia. While Grubb will confess major affection for more mainstream disco divas, his orchestration in Ancient Heat is decidedly experimental and daring.
In the world of Ancient Heat, disco is not a genre but a force of nature. As their name suggests, the band seems to have tapped into a secret primordial well of funky sensualism, working their alchemic magic for the dancefloor and turning all that glitters into gold. In both their exuberant re-contextualization of classic works and their own inventive compositions, they convey an unpretentious style and a deep sincerity. This is a group with their feet on the ground, ditching the irony, egos, and iciness of more slick Italo disco.
Instead, they bring us a west coast approach, with an earthy harmony about them that recalls the deep awe of the forest more so than the glitz of the club. The group dresses in all white for their compelling live performances, leading the local press to label these magic-makers: "a cross between Abba and The Children of God." It's a spectacle of skilled musicianship and ecstatic theatrics that you'll need to see to believe….
#48 of the Crystal Ballroom's "100 Nights"
Portland's Crystal Ballroom, as an ongoing entertainment staple for the city since 1914, celebrates its 100th birthday with a 100-day-long party! From October 14, 2013 to its actual centennial-mark on January 21, 2014, daily events will tumble forth from the historic Crystal Ballroom and its second-floor space Lola's Room, with an occasional spotlight pointed at the affable setting of Ringlers Pub.
Events will feature a mix of current national acts, the return of longtime Portland favorites, showcases of up-and-comers, and themed events inspired by key eras of the Crystal past. While the series will end with a bang – a performance by the Decemberists' Colin Meloy on January 21 – the entire run of shows will be stacked with stellar talent. Additional events will pay tribute to the Crystal's amazing history, with ballroom dance extravaganzas, old-timey/Americana dances, a gypsy-themed event, soul/funk shows and psychedelic jams.