From our sponsors: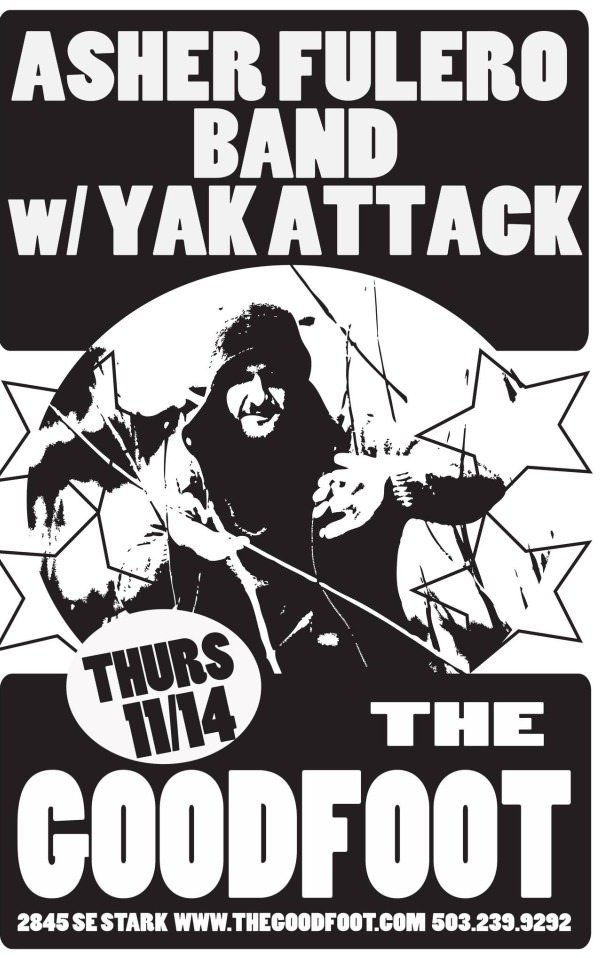 Asher Fulero Band, Yak Attack
November 14, 2013
9 p.m. | $7 | 21+
More info: thegoodfoot.com
The Goodfoot
2845 SE Stark St Portland, OR 97214
(503) 239-9292
Oregon-native Asher Fulero is an all-around keyboard hero of studio and stage, known here at the Goodfoot for his distinguished funky work as keyboardist/vocalist with The Goodfoot All-Stars and their annual James Brown Tribute, as well as many shows over the years with Scott Law Band, Surrounded By Ninjas, Scott Pemberton Trio, The Keyboard Summit, and many more (plus uncountable sit-ins and guest appearances).
Tonight he presents the Goodfoot debut of his new piano-led, vocal-oriented jam-jazz-rock Power Trio featuring bassist Brett McConnell (Shafty) and drummer Kyle Owen (The Junebugs). They play a solid mix of catchy, imaginative originals, exploratory instrumentals, and classic covers of favorites from Floyd, Phish, Steely Dan, Peter Gabriel and more plus other more obscure songs; all given the band's fun, open-format, improvisatory treatment and jet-powered by Fulero's inspired flights of extreme piano technique and the band's shared interest in the space where tight songs meet group improvisation.
Yak Attack is real, organic electronica. Rowan Cobb (Alpaca!, Giraffe Dodgers), Dave Dernovsek (Manimalhouse, Emulator) and Devin Weston (Planetjackers) have combined forces to create a full, lush, danceable sound far beyond what most trios can produce. Using live loops, well-placed samples, thick grooves, and expansive soundscapes, Yak Attack keeps the dance party at full blast, while constantly jamming, improvising, and experimenting with tunes in ways only a live band can accomplish.