From our sponsors: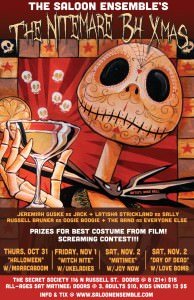 The Nitemare B4 Xmas w/ The Saloon Ensemble
October 31, 2013 @ 8:30 p.m.
November 1, 2013 @ 8:45 p.m.
November 2, 2013 @ 3:30 p.m. & 8:45 p.m.
Tickets $5-$15 | All ages welcome at Nov. 2 matinee otherwise, 21+
Purchase Tickets at www.secretsociety.net
Secret Society Ballroom
116 NE Russell St Portland, OR 97212
(503) 493-3600 | More Info: www.secretsociety.net
The show features the entire Danny Elfman Score performed live by The Saloon Ensemble's nine-piece Saloon orchestra (including sing-a-longs). The Nitemare B4 Xmasstars Jeremiah Guske and LaTisha Beeliever Beelover as Jack and Sally, and the dazzling Russell Bruner as Oogie Boogie. Each show features a different opening band.
The three-day celebration will feature a "Best In Film" Costume Contest, a Screaming Contest, and a booty-shakin' after party each night with The Saloon Ensemble playing Halloween favorites.
FAMILY-FRIENDLY MATINEE (SATURDAY, NOV. 2): Be sure to bring the entire family over for the all-ages kiddie matinee on Saturday afternoon featuring The Joy Now Arts Project. Come celebrate the season with this very special event!
Show Schedule
Thurs, Oct. 31
HALLOWEEN SHOW
Doors open at 8:30pm
Opening Act: MaracaBOOM! at 9pm
Nitemare begins at 10pm
Fri, Nov. 1
WITCHES NIGHT
Doors open at 8:45pm
Opening Act: The Ukeladies at 9pm
Nitemare begins at 10pm
Sat, Nov. 2
ALL AGES MATINEE
Doors open at 3:30pm
Opening Act: The Joy Now Arts Project at 4pm
Nitemare begins at 4:30PM
Sat, Nov. 2 (21+ show)
DAY OF THE DEAD
Doors open at 8:45pm
Opening Act: Love Bomb Marching Skeletons at 9pm
Nitemare begins at 10pm
Tickets: $15 at Door; Pre-sales available Oct 1st
Matinee Tickets: $10 Adults, $5 Children Under 13