From our sponsors: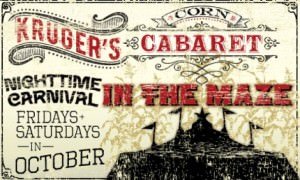 Kruger's Cabaret Corn Maze
October 25 & 26, 2013
7-10 p.m. | $10 Adults, $5 Children 5-12 | All Ages
More info: krugersfarmmarket.com
Kruger's Farm
17100 NW Sauvie Island Road, Portland, Oregon 97231
(503) 621-3489
Fire dancers, hula-hoop acrobats, outdoor movies and live music light up Kruger Farm's cabaret corn maze on Friday and Saturday nights during the month of October. With more than five miles of trails that all lead to an outdoor movie theater and a big top circus tent, this maze comes alive from 6 p.m until 10 p.m. on Cabaret Nights. Round a corner and you may find a group of fire dancers, climb up the tower and look down on the vintage circus tent or sit down and watch a film like "Rosemary's Baby" or "The Shining" in the outdoor movie theater — it's all part of the show in the corn cabaret.
Come Hear the Music Play
Visit the big top circus tent located in the middle of the maze for live concerts by local musicians from 7 p.m until 10 p.m. on the following Cabaret Nights:
Friday, Oct 25 Laura Ivancie, Gaea
Saturday, Oct 26 Costume Party w/ All The Apparatus
HUGE HALLOWEEN COSTUME PARTY throughout the maze!  There will be farm style prizes for best costumes so come in your best. This night is our Grand Finale so even if you came earlier you won't want to miss this one! With the amazing music of All The Apparatus,  Jacob Miller and the Bridge City Crooners and Jenna Ellefson
Come to the Cabaret
On Friday and Saturday nights after 6 p.m admission to the maze is $10 for adults, $5 for children ages 5 and older and free to those 4 years-of-age and younger.
Regular Maze Admission and Hours
The corn maze is open the following hours without the music, cabaret performers or outdoor movies:
Monday – Thursday: 9 a.m. – 6 p.m.
Friday & Saturday: 9 a.m. – 6 p.m. Regular Maze
Sunday: 9 a.m. to 8 p.m.
Admission during non-cabaret times is $6 for anyone 5 and older. Children 4 years of age and under are free.
About Kruger's Farm
Kruger's Farm features a produce market with vegetables and fruit hand-picked every day, u-cut flowers with over 50 varieties, u-pick produce and picnic areas. Kruger's Farm also carries canning supplies and features a retail section with market baskets from Ghana, sun hats and children's garden items. For more information, please visit www.krugersfarm.com or call 503-621-3489. The farm is open daily from 9 a.m. to 7 p.m. and 9 a.m. to 10 p.m. on weekends through October.
Directions to Kruger's Farm Market: Take Highway 30 north past Linnton to the Sauvie Island Bridge. Cross the bridge, proceed north approximately 1 mile on Sauvie Island Road and turn right into Kruger's Farm Market.