From our sponsors: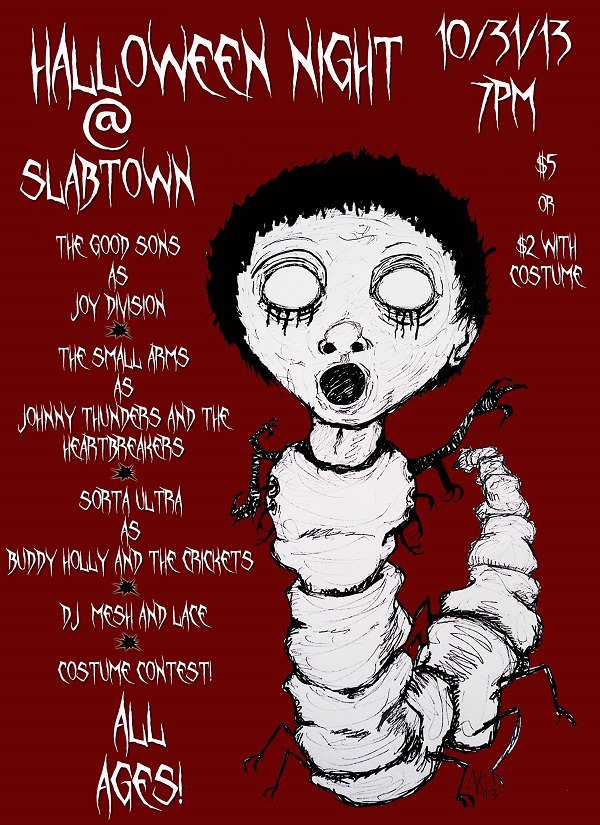 Small Arms' Second Annual All Ages Halloween Hoot and Costume Party
October 31, 2013
8:30 p.m. | $5 or $2 w/ costume | All Ages
Slabtown
1033 NW 16th Ave Portland, OR 97209
(971) 229-1455 | More info: slabtownbar.net
Dress up and come to Slabtown on Halloween to see your favorite bands dress up and play the hits from their favorite bands, not to mention DJs, prizes, tricks and treats (and more) CANDY!
TheGoodSons haunt Joy Division, Sorta Ultra channels Buddy Holly and the Crickets, and The Small Arms mainline Johnny Thunders and the Heartbreakers. DJ Flesh and Lace will open and close the evening, but we're not even hinting at who the super surprise guest costume contest MC is. Costume contest begins around 10:30.
$2 cover if you dress up! $5 if you don't. Costume contest prizes too awesome to list. Early show DJ starts at 8:30.