From our sponsors: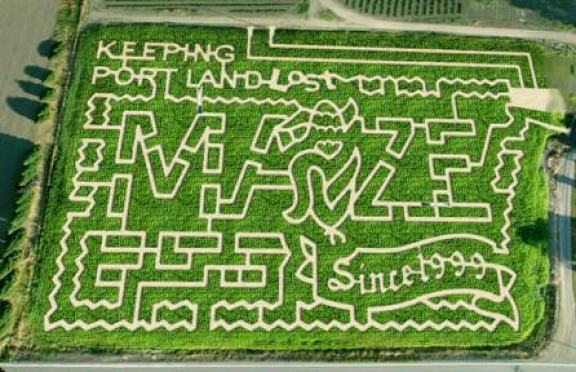 "Keep Portland Lost" MAiZE & The Haunted MAiZE
Tickets: portlandmaze.com/

The Pumpkin Patch on Sauvie Island
16511 NW Gillihan Rd Portland, OR 97231
(503) 621-3874 | More info: thepumpkinpatch.com
Portland's original cornfield maze celebrates its 15th season at The Pumpkin Patch on beautiful Sauvie Island in Portland, Oregon. In honor of the 15th anniversary, the MAiZE is offering free admission to those celebrating a birthday during the season.
Fifteen years ago, Craig Easterly, founder of the original corn maze, brought his weird idea to Sauvie Island's famous Pumpkin Patch and it soon became a fall tradition. The MAiZE attracts 30,000 eager explorers annually to the giant labyrinth of field corn, located just fifteen minutes from downtown Portland. Portland's premier agri-tainment attraction, The Maize and The Pumpkin Patch, have combined the local food movement with down home fun on the farm.
"Keep Portland Weird," a slogan that evokes pride in many Portlanders, is the inspiration for this year's MAiZE "Keep Portland Lost." The MAiZE encourages visitors to find their weirdness as they lose themselves in the two miles of twist and turns in the five acre cornfield.
The MAiZE staff knows folks have more fun without a map of the maze, but will happily provide a "passport" that holds trivia, which, if answered correctly, will guide maze-goers correctly through the twists, turns, and dead ends. Special for this year's MAiZE, "Keep Portland Lost" themed passports will test visitors' knowledge about the oddities and weirdness of Portland.
Since 1999, over half a million people from all over the Northwest have attended this popular fall event, making it a fun-filled family tradition. According to Easterly, this year's Keep Portland Lost MAiZE will be offering the usual exciting physical and mental challenges of previous versions. The two-phase maze offers an easier warm up to a more challenging second half, with two 16-foot long observation bridges that give visitors a look across the field and stunning panoramic views of Sauvie Island and the mountains in the distance.
——————–
The ("Keep Portland Lost") MAiZE
September: Open every day 10 a.m. – 6 p.m.
October: Sunday thru Thursday: 10 a.m. to 6 p.m.*
October: 4-5, 11-12, 18-19, 25-27, 30- 31: 10 a.m. to 10 p.m.
*Open Sunday, Oct. 27 and Wednesday, Oct. 30 until 10pm
Tickets: Adults $7 / Youth 6-12 & Seniors $5 at portlandmaze.com | Under 5 Free
Special Admission: Free admission on your birthday with valid identification (excludes Haunted MAiZE)
The Haunted MAiZE
October: 4-5, 11-12, 18-19, 25-27, 30-31
7 p.m. to 10 p.m.
Tickets: Adults $10 at portlandmaze.com
*Additional nighttime hours will be available for groups of 25 or more by reservation.
Combo Tickets: Adults $15 / Youth $13
——————————————————–
Our new Portland Events App for PDX Pipeline is now available for iPhones, Android phones and iPads!
Now, you can have all of the great Portland events from our website in the palm of your hand when you're out on the town.
——————————————————
—————————————————————