From our sponsors: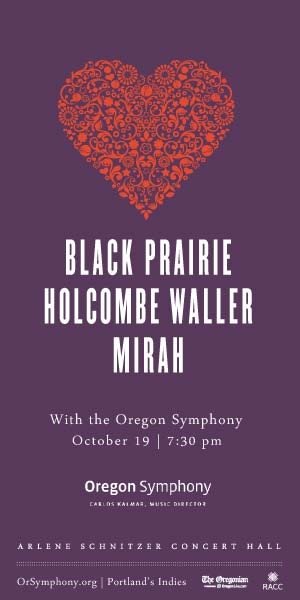 Portland's Indies w/ Black Prairie, Holcombe Waller & Mirah
October 19, 2013
7:30 p.m. | $22-$98
Tickets: tickets.orsymphony.org
Arlene Schnitzer Concert Hall
1037 SW Broadway Portland, OR 97205
(503) 248-4335
The Oregon Symphony welcomes three of its favorite bands on stage for a night of Indie-music.
BLACK PRAIRIE: Despite their individual musical pedigrees, the seasoned musicians that make up progressive string band Black Prairie aren't moonlighting. The ensemble is pulled together from different corners of Portland, Oregon's remarkably rich music scene, and while the high profile of each musician in the band' which includes four-fifths of the Decemberists' ensures a certain amount of attention, it's clear that Black Prairie are in it for purely musical reasons. They're playing a brand of Americana that defies easy categorization, cross-pollinating a number of different styles while exposing the venerable, forgotten roots of folk and bluegrass.
HOLCOMBE WALLER: Holcombe Waller is an award winning singer, composer and performing artist who composes for concerts, film, dance as well as for his own interdisciplinary shows that integrate video and theater design within the process of arrangement. He is known for his arresting, elastic vocals and subtle but knife-twisting folk and pop songwriting that dances with the elements. He employs themes of nostalgia, intimacy and the search for spiritual meaning to create music and performances that loosen the grip of 'coping' and 'defensiveness' used to gird oneself against the everyday backdrop of financial, environmental and public health issues. He is a 2011 United States Artists Berresford Fellow in Music, an award which noted his mournful, folk-inflected style as well as his approach to music "as total theater."
MIRAH: Mirah Yom Tov Zeitlyn began writing and performing in the late 1990's, in Olympia, Washington, the heart of the Northwest independent music scene. Her debut album was released by K Records in 2000 and she has since released a dozen solo and collaborative recordings on K Records, Kill Rock Stars and various domestic and foreign independent labels.
A dedicated genre-defier, Mirah's songwriting and recordings play with and challenge technical limitations of lo-fi and the prescribed boundaries of "indie rock" music. With lyrical poise and unabashed emotional honesty remaining at the center of her work, Mirah is dedicated to incorporating innovative instrumentation and unconventional arrangements.
Arrive early and check out the limited edition, signed posters for sale by the artists!