We are giving away two pairs of tickets to Sally Tomato and Friends performing Led Zeppelin III @ Alhambra Theatre on October 19. To win, email info (at) severeenterprises.com your best "I saw Led Zeppelin in concert" story . Winner will be emailed by Friday, October 18.
FREE PORTLAND: We give out 100s of $$$ in free tickets every week including to many of the top music and art venues in Portland. Join our newsletter if you like free stuff
———————————————
From our sponsors:
S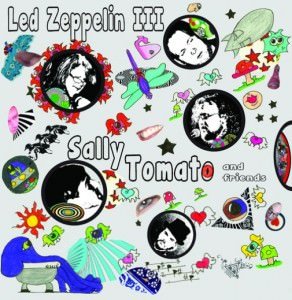 evere Enterprises Presents:
Sally Tomato and Friends performing Led Zeppelin III
with James Faretheewell and the Foolhardy
October 19, 2013
8 p.m. | $8 |
Tickets: ticketfly.com | More info: Facebook
Alhambra Theatre
4811 Southeast Hawthorne Boulevard, Portland, OR, 97215
More info: alhambrapdx.com
Sally Tomato has brought together more than 20 amazing Portland musicians to help perform this classic album. The CD will also be released on this evening.
Engineer Dave Friedlander, who has worked with Prince, Pink Martini and many other bands has done an amazing job capturing the true vibe of the album and Sally Tomato has blended a newness to the songs and an excitement about the project that leaves the listener rediscovering these great songs.
Guests include Steve Wilkinson (Wilkinson Blades), Drew Norman (Professor Gall), Paul Masvidal (Cynic), Roger Bueno (The English Beat), Ben Schroeder, Hamilton Sims (Little Beirut), Edwin Paroissien (Little Beirut), Monica Arce, Pete Vercellotti (Wavesauce), Michele "Cookie" Heile (Wavesauce), Chris Rich (The Poseurs), Keelan Arce-Paroissien, SP Clarke, James Faretheewell, and the Valkyrie Choral Ensemble.
Although it is not one of the highest sellers in Zeppelin's catalogue, Led Zeppelin III is now praised, and touted as representing an important milestone in the band history. It is this album which is widely acknowledged for showing that Led Zeppelin was more than just a conventional rock band and that they could branch out into wider musical territory.
Listen to "Immigrant Song" by clicking here. This tune features Paul Masvidal (from Cynic) on lead guitar.
The evening starts off in true Portland style and other great talent fills the bill:
9:30 pm – Portland Bike Ensemble
10:00 pm – Kris Deelane & the Sharp Little Things
11:00 pm – Sally Tomato and Friends present Led Zeppelin III
12:00 am – James Faretheewell and the Foolhardy