We are giving away a pair of tickets to Portland's Dawn of the Dead Dash on October 26. To win, comment on this post why you'd like to attend. Winner will be drawn and emailed Friday, October 18.
FREE PORTLAND: We give out 100s of $$$ in free tickets every week including to many of the top music and art venues in Portland. Join our newsletter if you like free stuff
———————————————
From our sponsors: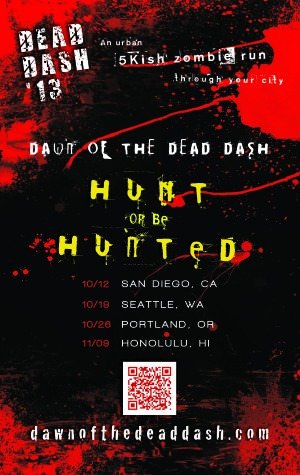 Dawn of the Dead Dash
October 26, 2013
6 p.m. | $45 ADV / $50 Day of | 18+ (21+ for after party)
Registration: dawnofthedeaddash.com
Headquarters
The location of Headquarters will be released to register runners the week prior to the race.
Dawn of the Dead Dash is the only nighttime urban zombie run that asks Portlanders to live the closest thing to the apocalypse. Participants meet at headquarters the night of the event. They will be briefed and given the first checkpoint location.
Participants are released to race through the city, avoiding being tagged by zombies to clear all the checkpoints and make it back to headquarters. No set course, no one is safe. Hunt or be hunted.
After party is sponsored by Deschutes Brewery and held at the headquarters.
See dawnofthedeaddash.com for Race Day FAQs.
The Rules:
You must obey all local, state, and federal rules and regulations at all times.
You will have 1.5 hours to complete the event.
Only humans wearing the official ID bibs and glow collars are in play. All other humans are not part of the event so do not tag or touch them.
A Zombie must physically touch your body in order for you to turn you into a Zombie. This is a fun event. No shoving, or arguing whether or not "he touched you." Have fun. It's that simple.
You must surrender your glow collar at the next checkpoint when you are tagged by a Zombie. New zombies must reach the next checkpoint before tagging humans.
Inappropriate touching, behavior, or any similar action will not be tolerated.
No weapons of any kind fake or real are allowed.
No pets are allowed–even if they are trained Zombie killers.
Dawn of the Dead Dash FAQs
WHAT EXACTLY IS THE DAWN OF THE DEAD DASH?
The Dawn of the Dead Dash is an exciting "life-changing" adventure run through the streets of the city. Challenge yourself to see if you can escape death and remain human from a rapidly growing Zombie population that is infecting your city.
WHAT DO I GET?
Event bib/clearance checkpoint card and glow collar
Entrance to the after-death party (if 21+)
The thrill of being chased by Zombies in your own personal horror run event
One hell of a damned good time
ARE THERE PRIZES?
Yes. Best Zombie costume
HOW LONG IS THIS RACE FOR MY LIFE?
There is no set course, so it all depends on how well you navigate from point A to B. The head officials estimate 3-miles of hellish fear pavement pounding.
CAN THE ZOMBIES RUN OR DO THEY STUMBLE?
Zombies who begin the event as zombies will be a mixture. Some will be stationed to a certain area, some will be stumbling dead, some with be running dead and some will strickly be placed to scare the living crap out of you.
Those who begin the event as uninfected humans and get tagged by a zombie will run just like the rest of you. So we suggest just running like hell.
There will be a safe zone along the course for you to catch your breath, plan your strategy and try to get out alive.
CAN I USE PUBLIC TRANSPORTATION?
Yes you may. You are free to use any PUBLIC transportation. You are NOT allowed to use any private transportation which is not limited to but includes: cars, bicycles, taxis, skateboards, witches brooms, etc.
CAN I DRESS LIKE A ZOMBIE?
Duh. Please do, because: A: you can win a prize, 2: because that's the whole point and D: because a great Zombie costume will help conceal you from the real Zombies.
WHAT HAPPENS IF I GET TAGGED BY A ZOMBIE?
If you are tagged by a Zombie you must surrender your glow collar at the next checkpoint. You are now a Zombie, off you go-tag some humans now. Must make it to the next checkpoint before you may tag anyone though. It's a rule, obey it please.
CAN I TURN BACK INTO A HUMAN?
How many Zombie movies have you seen? No. Once a Zombie, always a Zombie. No change backs, hocus pocus or any other spell.
WHAT IF THE WEATHER IS BAD?
We've never heard of a Zombie melting because of the rain. Head officials do have the right to cancel the event due to inclement weather or any other reason for that matter without notification, but we believe that a little (or a lot) of rain never hurt anyone.
WHAT SHOULD I BRING?
Whatever you feel you need during the race: food, water, change of clothes. All items must be carried by you during the race. No weapons to fight the dead of any kind are allowed. This includes both real or fake, so no packin'.
Also, please remember this is a night event and it's dark. A headlamp to see your map and where you are going wouldn't be a bad idea.
WHAT SHOULD I WEAR?
Uninfected humans should wear comfortable shoes for running. You are required to wear clothes that you do not mind getting dirty (and bloody). There is "blood" at checkpoints, and dirt on the ground. You will most likely get dirty, so we don't recommend your Sunday best.
ARE THERE REFUNDS?
Nope. No refunds or transfers or credit of any kind are offered. No exceptions.