From our sponsors: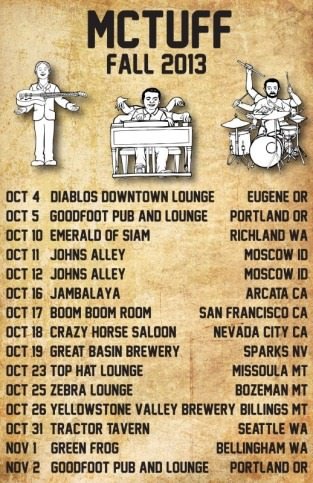 McTuff, Sophistafunk
October 5, 2013
9 p.m. | $10| 21+
More info: thegoodfoot.com
The Goodfoot
2845 SE Stark St Portland, OR 97214
(503) 239-9292
Hammond organist Joe Doria brings together some of the best of the NW music scene to create a powerful and jaw-dropping funk and jazz sound like you've never heard, exhibiting a mix of stellar musicianship, seasoned songwriting and deep groove where no musical stone gets unturned. McTuff is a movin' and groovin' adventure that you will not soon forget, featuring the impeccable Andy Coe on guitar, the incredible Tarik Abouzied on drums.
McTuff began in 2008 as an ode to jazz organ greats Jimmy Smith and Captain Jack McDuff, and has since evolved into a versatile and exciting group that has performed across the nation. The band has two albums under its belt, their 2009 release McTuff Vol. 1 and their 2011 follow-up McTuff Vol. 2: After the Show, with a third slated for release in Spring 2014.
McTuff has performed at Bumbershoot, the New Orleans Jazz Fest, as well as festivals and venues all over the US. The band has also held a residency at Seattle's legendary Seamonster Lounge for over five years. Their Tuesday night show has become regular stop for local and traveling musicians including Skerik, Allen Stone, Jeff Coffin (Dave Matthews Band), G Love (and Special Sauce), Blake Lewis, Kevin Sawka, and many others.
The members of McTuff have performed and toured with an impressive list of world-renowned groups and artists including Carlos Santana, Stanton Moore, Ravi Coltrane, Bobby Previte, Michael Shrieve, Mike Stern and many others.
SOPHISTAFUNK is an analog soul trio from Syracuse, NY that's making heads bob and hula-hoops twirl one city at a time. This fierce group blends a deep pocket, powerful lyrics and devastatingly funky vintage-key licks to create a massive, high-energy sound.
For six years, this road warrior band has been hitting the pavement and blowing minds across the United States. They've collaborated live with greats spanning Bernie Worrell (Parliament/Talking Heads) to Nikki Glaspie (Beyonce/Dumpstaphunk) and were featured on Diners, Drive-Ins and Dives when Gold's restaurant and music venue, Funk n' Waffles, was featured on the show on December 25, 2012. Host, Guy Fieri, dug the band so hard, they've since played his birthday party in Santa Rosa, CA and became the first band ever to play the International Home and Housewares Convention in Chicago, IL on March 3, 2013, by Fieri's personal request.