From our sponsors: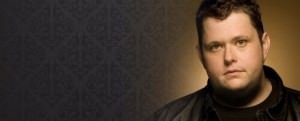 Ralphie May
September 29 @ Newmark Theatre (Live Filming)
September 30 @ Whiteside Theatre
7:30 p.m. | $31.50 | 21+
Purchase Tickets HERE
Newmark Theatre
1111 SW Broadway Portland, OR 97205
(503) 248-4335
Whiteside Theatre
361 SW Madison Ave Corvallis, OR 97333
In 2003, May was chosen to participate in the first season of Last Comic Standing. He finished in second place in the competition, with Dat Phan winning first place. After that, he started appearing in numerous comedy shows like The Wayne Brady Show and The Tonight Show with Jay Leno. In 2005, he was the only white comedian to perform on The Big Black Comedy Show, which also featured Mo'Nique, Rodman, and Vince Morris.
In 2005, May released his comedy album, Just Correct. Since then, he has recorded four Comedy Central specials: Girth of a Nation (2006), Prime Cut (2007), Austin-tatious (2008), and Too Big To Ignore (2012). He has also appeared on films like For Da Love of Money. He also performed at the "Gathering of the Juggalos 2012."
ALSO APPEARING:
Billy Wayne Davis is the thinking man's hillbilly. With a combination of subtle, disarming intelligence and an unmistakable comfort on stage, he has the rare ability to win over every kind of comedy audience imaginable. After making a name for himself in his homeland of Nashville, TN, he has gone on to perform in virtually every corner of the United States, from the deep south to the "alternative comedy" hotbed of Seatte, WA, which he now calls home. Billy Wayne's comedy really has no discernible category. He can be personal, shocking, political and absurd, but his ability to form an instant connection with audiences allows him to get away with anything and everything. For Billy Wayne Davis, no subject matter is off limits because there is nothing he can't make funny with his trademark drawl and easy charm.
Cory and Chad AKA The Smash Brothers are Identical Twins born and raised outside of East LA. Their Mother is a Mail lady and their father is a crazy Biker. They attended more than 14 schools growing up. So always being the new kid helped these two become the funny kids in school to try and make new friends. They say they are each others best friends. Even though they look alike they are really quite different. Cory is the so called "Good Twin". With his lad back style he is the calmer twin who doesnt drink and party and he keeps these two grounded. On the other hand Chad is the "Evil Twin". He is the bad boy type, with his wild party stories he keeps Cory on his toes. Growing up as Identical Twins they have found ways to make it through life by either switching classes, breaking up with each others girlfriends, or using each others drivers licenses, you never know what these two will say or do next. These guys are a must see event. If you have ever wondered what it would be like to have a twin come out and see one of LA's top comedy Duo.
This one-night-only show will be filmed for national distribution via services such as Netflix, Hulu Plus and cable TV. Come be a part of this major event!