We are giving away a pair of tickets to Hunter Valentine + Girl in a Coma w/ Krissy Krissy @ Backspace on September 19. To win, comment on this post why you'd like to attend. Winner will be drawn and emailed Monday, September 16.
FREE PORTLAND: We give out 100s of $$$ in free tickets every week including to many of the top music and art venues in Portland. Join our newsletter if you like free stuff
———————————————
From our sponsors: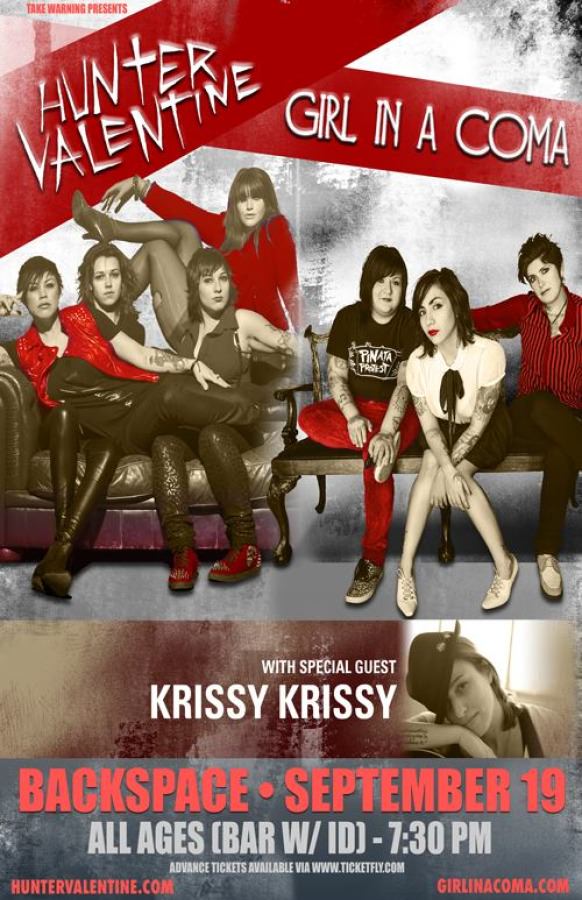 "Take Warning Presents"
Hunter Valentine + Girl in a Coma
w/ Krissy Krissy & Kiss Kill
September 19, 2013
7:30 p.m. | $13 ADV / $15 ADV | All Ages
Tickets: ticketfly.com
Backspace
115 NW 5th Ave Portland, OR 97209
(503) 248-2900 | More info: backspace.bz
Hunter Valentine
Go in, nail 'em and go home exhausted. Such a simple victory has been the mission of rock bands for decades. It's a noble pursuit; a Do It Yourself mentality that compels musicians to obliterate with powerful songs propelled by live passion and vitality.
That's Hunter Valentine.
Blasting out their inimitable rock since the summer of 2004, Hunter Valentine has blossomed, establishing a devoted fan base via their self-financed eponymous 2005 EP and building on that foundation with their 2007 full-length The Impatient Romantic (True North Records). Razing crowds from coast to coast in their decrepit van, nailing select European and U.S. Cities over the course of 200-plus shows, the trio has garnered an international fan base as they build out of their native Canada. Hunter Valentine are now poised to break through with their gripping follow up Lessons From the Late Night (Tommy Boy/Fontana/Universal).
Girl in a Coma
Girl in a Coma, hailing from the Lone Star State, formed when best friends Jenn Alva and Phanie Diaz met in Jr-high school art class over a mutual love of the Smiths, Nirvana, and skipping school. All they needed was a singer. Enter Nina Diaz, Phanie's then 12-year old little sister. Nina blew them away with her mesmerizing vocals, a powerful voice some critics have compared to Bjork, Patsy Cline, and the band's hero, Morrissey himself. The trio practiced for three years, gigged at local punk rock clubs, played a High School talent show, one kid's birthday party, and then hit the road, building up a solid and loyal fan base across the country.
In 2006, the Girls played for Joan Jett and long-time songwriting partner and producer, Kenny Laguna, at New York's Knitting Factory as part of a cable TV show featuring unknown bands. Jett and Laguna were so impressed with the band that they signed GIAC to their label, Blackheart Records, on the spot. The band's 2007 debut album, Both Before I'm Gone, was a critical hit with raves from Alternative Press Magazine, the LA Weekly, Bust magazine, among many others, with the album reaching No. 23 on Billboard's Heatseekers chart and No. 21 on iTunes. "Clumsy Sky," the band's first single, won a 2007 Independent Music Award in the Best Song-Punk category. The last of the four singles released, "Their Cell," was recently voted by TV viewers into the Top 10 on Logo's The Click List show.
Krissy Krissy
"I've been singing and showboating for as long as I could talk and walk," says the Brooklyn-bred Krissy Krissy, the 23-year-old sings with a guttural passion nicknamed "Brooklyn's Finest" by her hometown peers. She has half a million+ hits on YouTube, 50K followers on twitter, charted top 10 at iHeartRadio, and won Freshman Pick of the Week on MTV! She is currently featured in MTV Buzzworthy, The Hype Magazine, NBC New York, The Huffington Post, Vevo Homepage, Global Grind, AOL, The Blast by -Digiwaxx, I Heart Radio, MTV, Hits Magazine "New and Developing Artists Q1-Q2 2013″ (Print March 15, Vol 26 Issue 1115)
Above All, features six songs written by Krissy Krissy, with the running theme of love. The great love of a father-daughter relationship is represented in the title track. Jealous love is the focus of "Suspicious," which is the second single from the EP. "Your Love" is about finding happiness in that ultimate love. "Broken Glass" is about loving and being yourself through difficult times. "Maybe I" touches on wishing you could've loved someone a little bit more. And the first single and video, "Dream," is about the love of music and living out your dreams.