————-
————–
From our sponsors: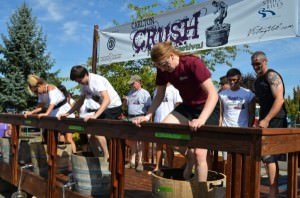 Carlton Crush in Downtown Carlton
September 14, 2013
10 a.m. – 6 p.m. | Free | All Ages
More info: carltoncrush.com or email CarltonCrush123@gmail.com
The Carlton Crush Harvest Festival is almost here again, and it will soon be time to celebrate the annual harvest.
The agricultural bounty from the harvest provides sustainable employment for so many in our communities — This Festival celebrates our people, our businesses and our magnificent quality of life!
Sponsored by the Carlton Businss Association (CBA), the Annual Carlton Crush Harvest Festival will take place just north of Main Street in Downtown Carlton, complete with a Grape Stomp Competition, Barrel Rolling Race, Wine Thief Relay Race, Kids' Watermelon Eating Contest and Kids' Grape Stomp, live music and entertainment, traditional Midway games for children, helicopter rides, and terrific Festival food.
The Crush Corral will feature wine, beer and hard cider, all donated from wineries and breweries throughout the area. Proceeds from the sale of adult beverages support Joseph's Storehouse, our local Food Bank. Last year, over $3,800 was raised for this worthwhile charity!
Event weekend specials will be offered by CBA Member businesses, with a unique "Passport to Carlton" distributed at no charge to all attendees.
Come One, Come All – There is no entry fee or admission charge for the day-long event. Free parking is available throughout the city.
Experience the unique culture of Carlton and Yamhill County, as we celebrate our community, our neighbors, our businesses, and the all important annual harvest – Come to the CRUSH and spend some time in our "Great Little Town"!
CARLTON CRUSH 2013 — EVENT SCHEDULE
10:00 AM:2013 Festival Opens
All Day Activities:
Midway Games for Kids
Artists' Market: Arts, Crafts & Services
Great Festival Food
Crush Corral: Adult Beverages
Live Music & Entertainment
Helicopter Rides
Event Weekend Specials with Your Free "Passport to Carlton"
11:00 AM: Grape Stomp Competition – (Heats Every 15 Minutes)
12:45 PM: Wine Thief Relay Race
1:15 PM: Grape Stomp Competition – Semi-Finals
2:00 PM: Wine Thief Relay Race – FINALS
2:30 PM: Grape Stomp Competition – FINALS
3:00 PM: Barrel Rolling Race & Kids' Grape Stomp
3:30 PM: Watermelon Eating Contest: (Kids: Ages 6 – 12)
3:45 PM: Barrel Rolling Race – FINALS
4:00 PM: Classic Rock 'n Roll by The Vintage Knights – Visit the Crush Corral Stage
6:00 PM: 2013 Festival Closes