From our sponsors: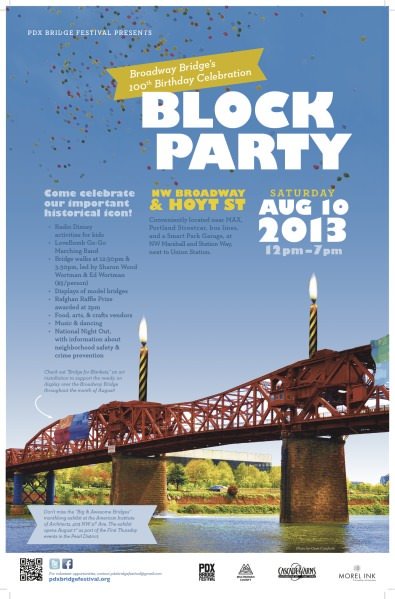 PDX Bridge Festival Block Party
August 10, 2013
Noon – 7 p.m. | Free | All Ages
More info: pdxbridgefestival.org
Pearl District
NW Broadway and Hoyt, Portland
Broadway Bridge 100th Birthday Block Party on Sat. August 10th, Noon to 7pm, between NW Hoyt, Broadway, 6th and Glisan. Music stage, Lagunitus Beer Garden, Art Show, food and product vendors, Bridge Tours at 12:30 and 4pm (tickets at event) Children's activities, Radio Disney, Clowns, the Mad Scientist and More!
The Bridge for Blankets project is part of this year's PDX Bridge Festival, a string of events that kicked off last April and that leads up to a block party on August 10th from 12pm-7pm, at NW 9th and Hoyt. This is a fitting art installation to celebrate the Broadway Bridge's 100 year presence and what it brought and brings to the fabric of Portland. Opening up the bridge between the music and clubs of the east side to the exotic life and associations of the west side in addition to the cuisines of both, enhanced this city's development. We are a better place to live because of it.
The block party will have music, dancing, displays of model bridges built by local area elementary school students, bridge tours led by Sharon Wood Wortman and Ed Wortman, a bridge art show, Radio Disney activities for children, and vendors of food, art, and crafts. The block party is a National Night Out event, and will also include displays and other information about neighborhood safety and crime prevention. The outdoor venue is conveniently located near MAX, Portland Streetcar, bus lines, and a smart park garage.
At the August 10th event, information will also be available on the new Sharon Wood Wortman/Ed Wortman project: The Big & Awesome Bridges of Portland and Vancouver—A Book for Young Readers & Their Teachers, of which PDX Bridge Festival is a sponsor. At over 100 pages and brimming with illustrations, this book about the bridges of Portland and Vancouver is a massive undertaking, and is being developed as a text book–distributed for free–to be used as class sets for Portland Public Schools' third grade classrooms and to Vancouver public school libraries.
The Broadway Bridge, maintained and cared for by Multnomah County, was the first bascule bridge over the Willamette River and the longest bridge of its type in the world when it opened on April 22nd, 1913. It is one of Portland and Vancouver's three highway century bridges, along with the 2010 Hawthorne Bridge and the 2012 Steel Bridge. At river mile 11.7, the Broadway Bridge provides a unique and critical link for the businesses and neighborhoods in and near the Rose Quarter with those in and near the Pearl District.
PDX Bridge Festival, a 501c3 charitable and educational organization, has celebrated the bridges that connect us all since 2010.