From our sponsors: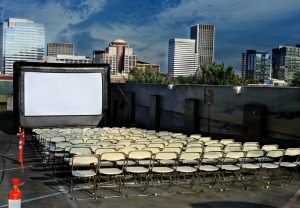 The Return of Top Down: Rooftop Cinema
Thurdays, July 25-August 29, 2013
8 p.m. | $9 | All Ages
Tickets/More info: nwfilm.org
Hotel deLuxe
729 SW 15th Ave Portland, OR 97205
(503) 219-2094
Two excellent dudes rocket through time while a bicyclist glides towards modernity. An Appalachian mountain dancer busts a move as Fred and Ginger twirl through the night. Sexy vampires seek a third for nocturnal fun and games and a human chameleon pops up in all the right (and wrong) places. It's the return of Top Down: Rooftop Cinema, your ticket to summer, music, and cinema under the stars.
Join the Northwest Film Center atop Hotel deLuxe's parking structure at SW 15th and Yamhill for our ninth annual program of Top Down: Rooftop Cinema.
Doors open at 7 PM with food and beverages available for purchase from Gracie's Restaurant, Portland Brewing Company, and Honest Tea and live music from local bands brought to you by Music Millennium. The music begins at 8 PM, and the movies start at dusk.
Due to capacity restrictions, arrival by 8:30 PM is recommended. Some seating is provided, but feel free to bring a chair, pillow, or blanket and a light sweater or jacket. Please, no pets or outside food or drink. Thanks to our sponsors: Hotel deLuxe, Peter Corvallis Productions, Music Millennium, Honest Tea, Portland Brewing Company, Car2Go, Portland Mercury, Yelp! Portland, KIND Healthy Snacks, PDX Pipeline and 94.7 FM.
Complete Film listings:
August 1 – Thursday 8 p.m.
DANCING OUTLAW I & II: JESCO GOES TO HOLLYWOOD
Band: Barry Brusseau
Meet Jesco White, a hard-living tap dancer in Boone County, West Virginia, whose repeated run-ins with the law have interfered with his dream of becoming as renowned a "mountain dancer" as his late father, D. Ray White. Jesco has three distinct personalities: a sort of skinny version of the fat Elvis, the gentle and loving Jesse, and the violent and dangerous Jesco, who his wife Norma Jean warns is "the devil hisself." This hilarious and slightly exploitative peek into 20th century Appalachian life demonstrates that real life provides far more eccentric characters than the fanciest of fictions.
August 8 – Thursday 8 p.m.
ZELIG
Band: Jaime Leopold and the Short Stories
August 15 – Thursday 8 p.m.
BILL AND TED'S EXCELLENT ADVENTURE
Band: TBA
August 22 – Thursday 8 p.m.
THE HUNGER
Band: Foreign Talks
August 29 – Thursday 8 p.m.
SWING TIME
Band: Nopo Big Band
The Northwest Film Center is a regional media arts organization offering a variety of exhibition, education programs, and artist services throughout the region. The Center presents a program of foreign, classic, experimental, and independent works year-round at the Whitsell Auditorium, located in the Portland Art Museum. For more information, see www.nwfilm.org