From our sponsors: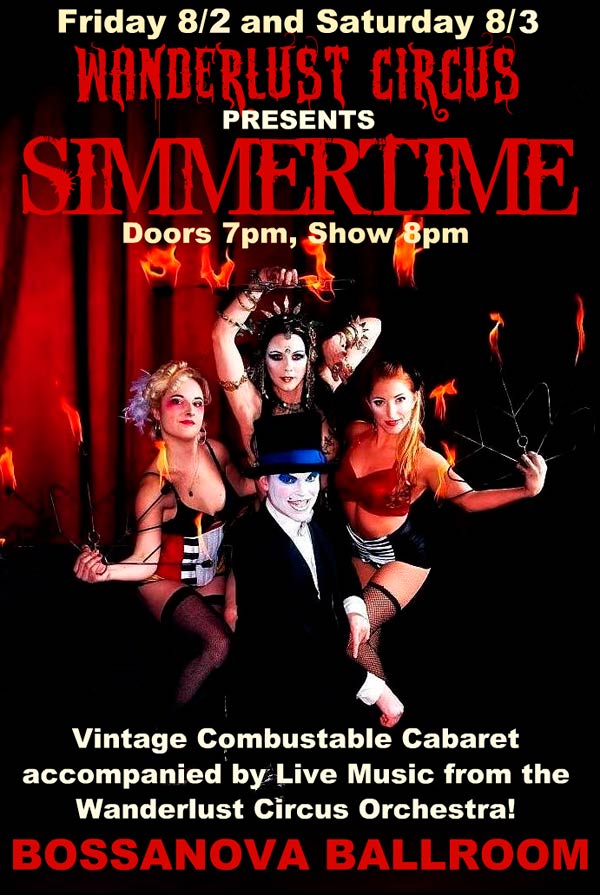 The Wanderlust Circus
August 2 & 3, 2013
Doors 7 p.m. / Show 8 p.m. | 21+
$100 for a table for 4 in the balcony
$80 for a table for 2 right up front
$30 first 2 rows of seats
$25 rows 3-4
$20 General Admission seats
Tickets: bossanovaballroom.com
Bossanova Ballroom
722 E Burnside St Portland, OR 97214
(503) 206-7630
OUR ONLY PORTLAND SHOW THIS SUMMER!!!
Featuring
LEAPIN' LOUIE LICHTENSTEIN
RUSSELL BRUNER
NAGASITA
PAULINA MUNOZ
ALICIA DOERRIE
CURT CARLYLE
MR. CREATURE
and his amazing PNEUMATOPHONE
WILLIAM BATTY
and THE WANDERLUST CIRCUS ORCHESTRA!
Cascadia's Proudest Circus Family is back home in Portland for just a couple weeks before heading out on our next great adventure! While we're here, we're getting together for one big weekend of shows at THE BOSSANOVA BALLROOM, showcasing all the crazy new tricks and routines we've been working up on the Endless Road!
Not only that, but we're taking advantage of Bossanova's status as the only legal fire venue in Portland to bring the heat proper. Along with all our finest acrobats, aerialists, and dancers; we'll feature pyromaniac prodigies showing off their scorching skills for two nights only!
The Wanderlust Circus Orchestra provides the live score to this combustible cabaret, forsaking the tribal-industrial leanings of fire shows past for a hotsie-totsie bohemian swing sound from the dark side of the 1930s.
Limited table seating is available, so don't hesitate to snatch one up for the perfect Summer date! Catch us while we're hot!