From our sponsors: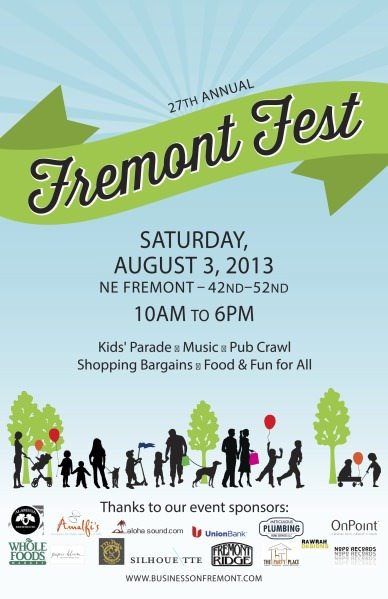 Fremont Fest 2013
August 3, 2013
10 a.m – 6 p.m. | Free | All Ages
More info: businessonfremont.com
Northeast Fremont
Between NE 42nd-NE 52nd
The event kicks off with a 5k run at 9:00am followed by a parade with children, bike and pets parade starting at Beaumont Middle School at 10:00am (registration starts at 9:30am).
Parents, kids and pets are encouraged to decorate their bikes, don their costumes for themselves and their pets and meet at the school at 9:30am. Vintage Cars will head up the parade followed by bikes and pets. Dance Groups, Scouts, and others are encouraged to participate. After the parade the street will be closed and set up with vendors and games for all the neighbors to enjoy.
Festivities include:
6 stages with live music from all over Portland!
Children's area
Street Soccer exhibition
Pony rides
Pub Crawl with $10 tickets sold at information booths (4 oz pours at 8 drinking establishments, and many specials for visitors!)
Over 200 vendors!
Pub crawl raffle winners receive golf clubs or barbecue grill
Cake Walk at the corner of 48th & Fremont
Schedule
9am: The day will begin with a 5K race sponsored by Foot Traffic
9:30am: A pet and children's parade will be staged at Beaumont Middle School's parking lot;
10am: Parade begins and walks the length of the street fair!
10am-6pm: Street Fair