From our sponsors: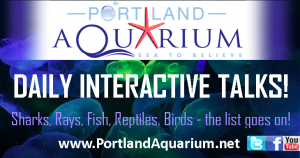 Daily Interactive Talks @ Portland Aquarium
Sunday – Thursday 10 a.m. – 7 p.m.
Friday – Saturday 10 a.m. – 8 p.m.
Admission is $7.95-$10.95 | All Ages, kids under 2 FREE
Portland Aquarium
16323 SE McLoughlin Blvd Milwaukie, OR 97267
(503) 303-4721 | More Info: portlandaquarium.net
The Portland Aquarium is a hands-on, interactive aquarium. Hand feed black tip reef sharks, southern stingrays and bat rays, lorikeets, reptiles and much more – up close and personal! Our touch tanks are filled with a variety of sharks, stingrays, seastars, anemonies, sea urchins, and other amazing fish and colorful animals that children and adults alike can experience first hand. Come and enjoy the rain forest exhibit, aviary, jungle gym, and our educational programs.
Join us for our daily interactive talks featuring sharks, octopi and reptiles!
Schedule:
Shark Talk at 11am, 1pm, and 4pm
Octopus Talk at 12pm and 5pm
Reptile Talk at 2pm
Wolf Eel Show on Saturdays only, 3:00pm
"The sea, once it casts its spell, holds one in its net of wonder forever…"
~Jacques Cousteau