From our sponsors: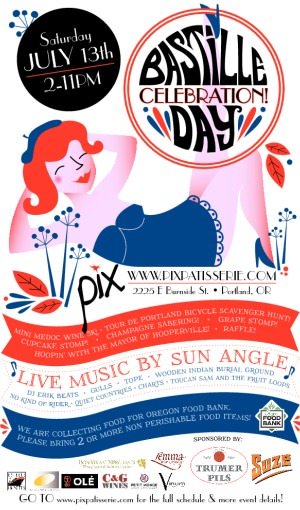 Pix Pâtisserie's
2013 Bastille Day Bash
July 13, 2013
2 p.m. – 11 p.m. | Free with 2 or more nonperishable food items | 21+
More info: pixpatisserie.myshopify.com
Pix Pâtisserie
2225 E Burnside St Portland, OR 97214
(971) 271-7166
To celebrate the storming of the Bastille prison in 1789 which spurred the French Revolution (and to have a little fun at the same time) Pix is holding a super celebration with fun events for all ages throughout the day and night.
Come for live music, a wine drinking 5K, Champagne sabering, hoola hoopin', bicycle scavenger hunt, grape stomp, even a cupcake stomp – stomp on a cupcake for a free macaron!
In addition to the fun and games we are supporting Oregon Food Bank. This is a FREE community event but in exchange we ask that each attendee bring 2 or more non perishable food items. For each item donated guests will receive a raffle ticket for a chance to win a gift certificate to one of Portland's finest eating establishments. The more items you bring, the more chances you have to win and the more mouths we can feed!
Just in case you get hungry or thirsty, don't worry! Partake in the 150# whole roasted pig from Carlton Farms or indulge yourself at the Champagne & Oyster Bar.
Without further adieu, I introduce to you the 2013 Pix Bastille Day Bash! (throw confetti now)
Schedule of Events
2:30 Mini Médoc Marathon Fun Run
More info: www.marathondumedoc.com
The Médoc Marathon is a 26.2 mile race that winds through over 50 châteaux in the famous wine region of Bordeaux. You may drink water if you like, but there are also 22 "dégustation" sites where you are encouraged to partake in wine tastings of Grand Cru vineyards. Pix is holding a Mini Médoc Marathon! During this 5K course there will be plenty of wine tasting pit stops. Unlike the Médoc Marathon, we are unable to give the winner their weight in wine at the finish. However, prizes will be marked on the bottom of random glasses at the tasting sites. And like the Médoc marathon dressing in costume is a must! Best costume wins $50 Pix gift certificate. Entry Fee: 5 or more nonperishable food items. Runners must be 21+
E-mail name and phone number to pix@pixpatisserie.com to register.
2:45 Mayor of Hooperville Hula Hoop Extravaganza
3:00 Live Music: Charts
3:45 Tour de Portland Bicycle Scavenger Hunt
This scavenger hunt will send bikers around the city looking for 20 items with a French theme. Teams may consist of 1-3 people. First team to bring the 20 items on the list back to Pix via bicycle wins a $150 Pix gift certificate!
Entry Fee: 10 or more nonperishable food items per team
Contestants must wear helmets.
E-mail pix@pixpatisserie.com to register with team name, team members and a contact phone number.
4:00 Live Music: Toucan Sam and the Fruit Loops (Ukuleles, spandex and sparkles!)
4:30 Live Music: Quiet Countries
5:15 Learn to Saber!
At Pix we love a nice glass of bubbly. In fact, we have one of the world's largest (if not the largest) Champagne lists with 258 selections focusing on grower/producer Champagnes. What's more fun than drinking a bottle of bubbly? How about opening it by slicing the top off with a knife! Better yet, slicing it off with a wine glass! A sure fire way to impress your friends – just don't hit them in the face with the cork. Safety first as we show you the secrets of sabering.
5:30 Live Music: No Kind of Rider
6:15 Grape Stomp
Back in the day wineries crushed grapes by stomping on them with bare feet. This custom is still practiced today in parts of Portugal in the making of Port. Test your stomping skills! Six teams of three will compete to see who can stomp the most juice out of 10#'s of grapes in one minute. Winning team receives three $20 Pix gift certificates and all the grape juice they can make! Entry Fee: 3 or more nonperishable food items per team. Limited to the first six teams to sign up at the party.
6:30 Live Music: Wooden Indian Burial Ground
7:30 Live Music: Tope
8:30 Live Music: Gulls
9:30 Live Music: Sun Angle
10:15 DJ Erik Beats