Mississippi Street Fair Photo by Brewcaster
Portland's Mississippi Ave Street Fair takes place this Saturday and it is the 12th anniversary! If you haven't been before, it is HUGE, with over 30,000 attendees last year making it Portland's largest annual street fair. There will be food, music, crafts, art, a beer garden, and much more. Plus, all of it is FREE!
————————————–
From our sponsors:
12th Annual Mississippi Stree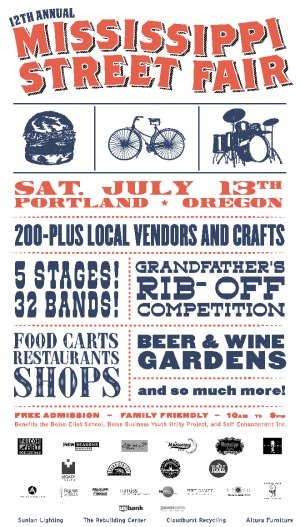 t Fair
July 13, 2013
10 a.m – 9 p.m. | Free | All Ages
More info: mississippiave.com | Facebook Page
Mississippi Avenue
Between Fremont & Skidmore
Survey: Do you have feedback on the fair? Tell us your thoughts here: surveymonkey.com
Volunteer: Do you want to volunteer at the fair? Sign up at mississippiave.com
—————
11th Annual Mississippi Ave. Street Fair
The Mississippi Ave. Street Fair is an annual celebration of the history that makes N. Mississippi unique. The community­ building event honors residents, businesses and organizations from N. Fremont to N. Skidmore on Mississippi Ave.
On July 13th the Mississippi Street Fair will feature 200+ vendors and crafts, 40+ bands, an exclusive craft brew and wine garden, a bevy of food carts, the famous Grandfather's Rib­Off Competition, and more.
The music schedule features local favorites Sun Angle, Holiday Friends, Grandparents, 1939 Ensemble, Ryan Sollee (of Builders and Butchers), Philly's Phunkestra, Norman Sylvester Band, and more. Check out the full music lineup at mississippiave.com
The Mississippi Street Fair is brought to you by the Historic Mississippi Ave Business Association (HMBA) & the Boise Neighborhood Association (BNA). A portion of the fair proceeds is donated to the Boise­Eliot Elementary School, the Boise Business Youth Unity Project, and Self Enhancement, Inc.
———-–————————————–————————————
Our Portland Events App for PDX Pipeline is now available for iPhones, Android phones and iPads!
Now, you can have all of the great Portland events info from our website in the palm of your hand when you're out on the town.
–————————————
—————————————————–
Mississippi Street Fair Music Schedule
MAIN STAGE
Located at Mississipi Ave and Shaver
12:00pm-1:00pm Brush Prairie
1:00pm-2:00pm PHAME
2:00pm-3:00pm Norman Sylvester Band
3:00pm-4:00pm NoPo Big Band
4:20-5:00pm Magic Mouth 
5:20-6:00pm 1939 Ensemble
6:20-7:00pm Hillstomp
7:00pm-8:30pm Lewi Longmire and the Left Coast Roasters
COURTYARD STAGE
Presented by Bar Bar, located at Bar Bar
12:30pm-1:30pm Will West
2:45pm-3:30pm Tango Alpha Tango
3:45pm-4:30pm Grandparents
4:45pm-5:30pm Sean Flinn
5:45pm-6:30pm The We Shared Milk
6:45pm-7:30pm Genders
8:00pm-9:30pm Sneakin' Out (21+)
SKIDMORE STAGE
Presented by Prost, located at Skidmore
1:00pm-2:00pm Madgestiq
2:00pm-3:00pm Ryan Sollee (of Builders and Butchers)
3:00pm-4:00pm Thanks
4:20pm-5:00pm The Lower 48
5:20pm-6:00pm The Weather Machine
6:20pm-7:00pm Holiday Friends
7:00pm-8:30pm Neighbors
FREMONT STAGE
Presented by Por Que No, located at Fremont
12:00pm-1:00pm Brian Walker Trio
1:00pm-2:00pm Roseland Hunters
2:00pm-3:00pm Jaime Leopold & the Short Stories
3:00pm-4:00pm Too Loose Cajun Band
4:20pm-5:00pm Krebsic Orkestar
5:20pm-6:00pm Fault Lines
6:20pm-8:30pm Philly's Phunkestra
KIDS STAGE
Located at Mississippi Pizza
12:00pm-1:30pm Lorna Miller
1:30pm-3:00pm The Alphabeticians
3pm-4:30pm Mr. Ben

4:30-5:30pm Red Yarn
Q CENTER ACOUSTIC STAGE
Located at the Q Center at Mason
11:30am-12:15pm Danielle from Her Ghost
12:30pm-1:15pm Ryan Johnson
1:30pm-2:15pm Keeter Stuart and Alison Rice
2:30pm-3:15pm Matthew Lindley
3:30pm-4:15pm Sunday Last
4:30pm-5:15pm David E. Lane
5:30pm-6:15pm Rich West Blatt
6:30pm-7:15pm Sarah Mitchell
7:30pm-8:15pm Jeremiah Clark