Portland's First Thursday event is happening on Wednesday this week! Due to the Fourth of July holiday falling on First Thursday, downtown area galleries will be hosting opening receptions on Wednesday, July 3rd instead. With this warm weather, there are sure to be thousands of people roaming NW Portland. There are over 50 (probably 100) galleries having openings this month, with most openings taking place in the Pearl district and Old Town/China Town. Most gallery openings begin at 5PM or 6PM and end at 9PM or 10PM.
We have a very large list below thanks to Sequential Art Gallery (328 NW Broadway). They compile an email called the "[h]IT LIST" of events every month. You can join it by emailing them @ sequentialart @ gmail dot com. We have reproduced much of it below with permission.
Are you on the Twitter? Follow @FirstThursday or the #firstthursday hashtag to see what people are posting about it. You can also follow Sequential art on twitter: @sequentialart
FREE PORTLAND: We give out 100s of $$$ in free tickets every week including to many of the top music and art venues in Portland. Join our email list if you like free stuff
————————————

Related Portland Events & Info:
—————————————————
This Month at Sequential Gallery:
From our partners: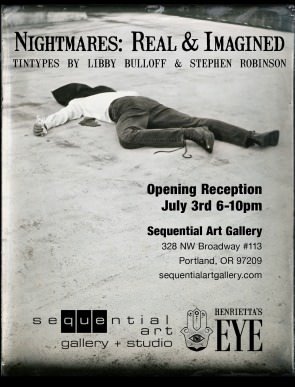 Nightmares Real & Imagined
July 3, 2013
6-10 p.m. | Free | All Ages
More info:
Sequential Art Gallery + Studio
328 NW Broadway #113, PDX
Exhibit on display through Saturday, July 27th
Sequential Art Gallery presents "Nightmares Real & Imagined", an installation of tintype photography by Seattle-based artists Libby Bulloff and Stephen Robinson. The exhibit opens on WEDNESDAY, JULY 3rd with an artist's reception from 6pm to 10pm.
Using the medium of wet plate collodion on aluminum – commonly known as tintype photography – Bulloff and Robinson have created a series vignettes to investigate the horrific and humorous imagery found in nightmares. Drawing inspiration from the collective unconscious, the photographs contain familiar themes – fear, loss, death, pain – with the intent to evoke emotional response from the viewers, thus making their reaction a part of the installation.
Bulloff is a self-taught internationally exhibited photographer, designer, and editor. Her brightly colored portraits and food photographs have been published in numerous books and magazines. She recently finished an exhibition of retrofuturism at the Museum of Ideas and Innovations in Barcelona, Spain. Libby is a member of the '57 Biscayne artist collective in Seattle, WA.
—————————————————
Everett Station Lofts
101. MULTIPLEX – Open First Thursday
102. SOHITEK GALLERY – Open First Thursday
103. RIGHT SIDE ART – Open First Thursday
104. ORIENTATION – Open First Thursday
106. COCK GALLERY – Open First Thursday
110. DARRAS
– expected to be open
115. [NEW GALLERY COMING SOON] – Stay Tuned
116. [NEW GALLERY COMING SOON] – Stay Tuned
117. PULSE
– expected to be open
BREEZE BLOCK GALLERY
 [323 NW 6th Ave] – (Reception on Friday) "Monument Adrift" by Kevin Early Taylor; "I'm a Stranger Here Myself" by Ryan Stewart Nault
Old Town Chinatown
BACKSPACE
 [115 NW 5th] – Open First Wednesday
BUTTERS
 [520 NW Davis] – "Reiterations and Rifts" by Brenda Mallow; "Organic" group show
COMPOUND
 [107 NW 5th Ave] – "Second Nature" by Keither Carter, Adam Haynes and Steve Seeley
EPHEMERAL GALLERY [412 NW Couch] – Indoor Mural (visible from street)
FLOATING WORLD COMICS
 [400 NW Couch] – Press Gang Book Release& Anniversary Party, featuring work by Farel Dalrymple, Zack Soto, Francois Vigneault
GRASS HUT
 [400 NW Couch] -Bakerz Dozen and Cop A Squat Toys mini show
HELLION
 [19 NW 5th] – Closed for Holiday Week
SARAH GIFFROW CREATIVE
 [217 NW Couch] – Swimwear designs by Amy Elizabeth Couture; Jewelry designs by Deborah Funches; and Artwork by Theresa Pridemore, from her "Portland Tarot" project
Northwest
ANNIE MEYER
[120 NW 9th Ave] – artwork by Kathy Taylor
AUGEN NW
 [716 NW Davis] – "Hurricane" by Karen Esler; "Ephemeral" by Cynthia Mosser; Collage group show curated by Ben Rosenberg
BASIL HALLWARD GALLERY @ POWELL'S
 [1005 W. Burnside] – Open First Wednesday
BLACKFISH
 [420 NW 9th Ave] – Recent Graduates Exhibition 2013
BLUE SKY
 [122 NW 8th Ave] – Photography: "Flaming Energy Ball" by Shawn Records; "The Optical" juried by Allan Chasanoff
BRYN FORBES GALLERY
 [1102 NW Marshall] – Open First Wednesday
BULLSEYE
 [300 NW 13th Ave] – Landscape portraits by Joseph Harrington
CARAVAN PACIFIC
 [1720 NW Lovejoy] – Open First Wednesday
CHARLES A HARTMAN FINE ART
 [134 NW 8th Ave] – "Under the Sun's Gaze" by Jessica Curtaz
DEEP FIELD GALLERY
 [1126 NW 13th] – Open First Wednesday
ELIZABETH LEACH
 [417 NW 9th Ave] – "Terra Mobilis" by Christine Bourdette; "Confluence" by Barbara Sternberger
FROELICK
[714 NW Davis] – (Site implies closed until mid-July)
GALLERY 114
 [1100 NW Glisan] – "Lossless" by Erin Robinson Grant & Hannah Karsen
GALLERY 135
 [135 NW Park] – expected to be open
GALLERY 903
 [903 NW Davis St.] – "Life Journeys times Three" featuring Marie Powell
GBD ARCHITECTS
 [1120 NW Couch, Ste 300] – Open First Wednesday
GIGANTIC
 [looking for new space]
LITTLE THINGS
[1720 NW Lovejoy #102] – Open First Wednesday
LAURA RUSSO
 [805 NW 21st] – Recent work by Dana Lynn Louis; Work from the Estate of Michele Russo