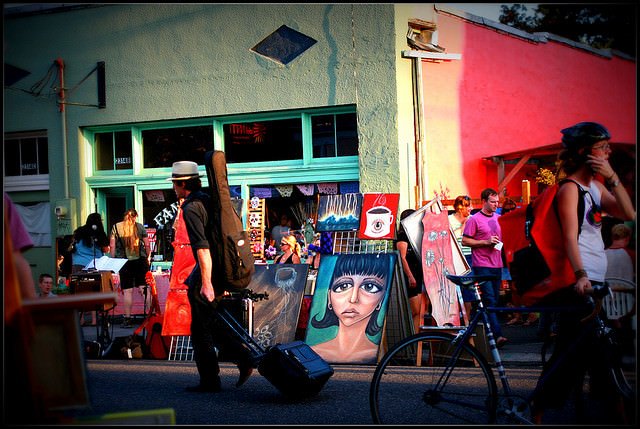 Last Thursday photo by dit_tabano
Despite the resignation of nonprofit group Friends of Last Thursday, the mayor's office said this week that Last Thursday on Alberta Street is still on! Alberta Street between 15th and 30th Avenues will be closed for Last Thursday at 6 p.m. and reopen at 10 p.m. with street sweepers.  Extra security and port-a-pottys may or may not be available depending on what the city can pull together. Temps are expected to be in the low 80s!
FREE PORTLAND: We give out 100s of $$$ in free tickets every week including to many of the top events in Portland. Join our email list if you like free stuff
———
More Portland Last Thursday Events & Info:
—————————————————–
Info and Tips (from Friends of Last Thursday):
On Twitter? We will be using the @lastthursday account to relay information about the event as always.
Street Closure: Alberta street is closed for Last Thursday at 6PM.
Parking: Parked on Alberta Street? Cars need to get off the street by 5pm.
Trimet: Bus reroutes are in effect from 6-11pm on Alberta. Catch the bus at stops on Killingsworth instead.
Vendors: Make room across sidewalk for wheelchairs to have access to your goods, and wait til 6pm to set up in the street. Parking lanes ok after 5! Vendors may not set up in side street entrances so emergency vehicles can get in. Buskers only in these areas. Although we love non-profits we ask they give up their spots at Last Thursday for artists, crafters, musicians, and vendors of handmades.
Noise & Boomboxes: Be respectful with that boombox! Sound during Last Thursday should not carry more than half a block. A noise ticket could cost you $500.
Trash: Last Thursday is a leave no trace event. Pick up after yourself. Trash stations are located at every intersection
Open Containers: No open containers at Last Thursday.
Fire: Fire spinners need permits. Applications are available at FoLT booth, between 19th and 20th.
Closing Time: The city will start opening Alberta at 10 p.m., be ready to go please.
Friday: Neighborhood clean-up in effect on Alberta after Last Thursday
————————————————-
Our Portland Events App for PDX Pipeline is now available for iPhones, Android phones and iPads!
Now, you can have all of the great Portland events info from our website in the palm of your hand when you're out on the town.
————————–
—————————————-