From our sponsors: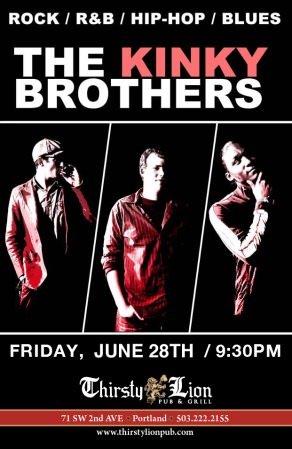 Live Music at Thirsty Lion
June 25-29, 2013
More info: thirstylionpub.com
Thirsty Lion
71 SW 2nd Ave Portland, OR 97204
(503) 222-2155 | More Info: www.thirstylionpub.com
Friday, June 28th • 9:30pm: Kinky Brothers
The Kinky Brothers have one goal: To make YOU dance! From whiskey drinking, face melting Rock and Roll to smokey, soulful Hip-Hop and every funking thing in between, every Kinky Brothers show is unique and fresh, while staying true to one core value: Let's Party!
More Live Music at the Thirsty Lion:
Tuesday, June 25th • 8pm: Portland Singer Songwriter Showcase
Portland's best singer songwriters showcase their skills every Tuesday night at the Thirsty Lion Downtown, stop by for great beer, food and music! Check out some of Portland's best singer songwriters!
Wednesday, June 26th • 8:30pm: Guy Dilly & The Powers (aka Jordan Harris)
Imagine if John Mayer, Queen, and Neon Trees sat down and had a jam session. Guy Dilly & The Powers bring all that and more every Wednesday night at the Thirsty Lion. Come check them out!
Thursday, June 27th • 9pm: Corner
Saturday, June 29th • 9:30pm • Gentlemen's Club & Boys Next Door
Imagine a virtual jukebox of most of your favorite songs from the 60's through the 00's. Everything from AC/DC to Green Day; Brown Eyed Girl to Turnin' Japanese; and a boatload in between. Though throwing in an original by one of the band's songwriters every now and again, Boys Next Door are the quintessential cover band. Yell out a song and they're likely to learn it and play it for you on the spot!