From our sponsors: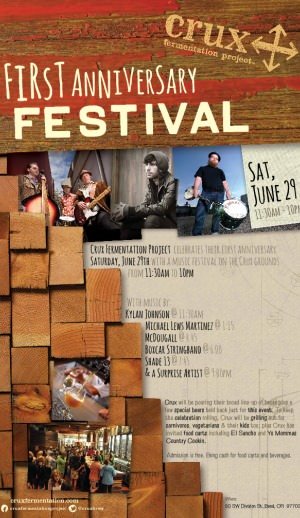 Cruxapalooza II
June 29, 2013
11:30 a.m. – 10 p.m. | Free | 21+
Facebook Event | More info: cruxfermentation.com
Crux Fermentation Project
50 SW Division Street, Bend, Oregon
Crux Fermentation Project's 1st Anniversary Celebration
featuring several live bands, photo booth fun, food carts, great Crux fare and PLENTY of Crux brews.
Crux brewmaster Larry Sidor is always in pursuit of the next great beer—beer that defies taste profiles with its complexity and creativity. We've designed our brewery to allow for non-traditional brewing methods like decoction mashing, open fermentation, oak barrel aging, wild yeast strains and experimental hops.
Initially, we'll only have a few thousand hectoliters of capacity. With added fermenters and bright beer tanks, we could push that to 11,000 hectoliters (or around 9,000 barrels). But we kinda like being small. It makes us nimble and free to experiment in ways that just aren't possible with larger batch sizes.
Housed in a former transmission shop and mill supply store, Crux Fermentation Project was built by a community of beer lovers. To everyone who contributed ideas, materials, sweat and support, thank you. And cheers.