From our sponsors: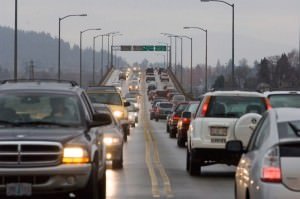 Carefree Commuter Challenge
Entire month of July
More info: DriveLessConnect.com | Email: [email protected]
Portland commuters waste about 44 hours and $937 each year being stuck in traffic. Maybe it's time to explore your options to driving alone during the July Carefree Commuter Challenge.
Cutting your commute costs can add up to real savings that matter. Discover ways to save, plus win a $25 Fred Meyer gift card or one of 7 iPads.
It's Easy:
Create an account at DriveLessConnect.com
Use any commute option– take the bus/streetcar, MAX or WES, carpool/vanpool, bike commute, walk or telework in July and log trips into your trip diary
Plus, we're adding a new twist we're calling Carefree Commuter Challenge+. Up to 200 participants, starting in June, will get to try for free from MetroMile Metronomes that easily plug into vehicles and provide real-time mileage, route planning and cost savings metrics.
All + participants will receive a $20 Fred Meyer gift card, plus be eligible for challenge prizes. Get your trial Metronome at www.metromile.com/challenge.
Watch the savings add up and be counted!
Questions? Need help? Call us at (503) 813-7566, or send an e-mail, [email protected]