From our sponsors: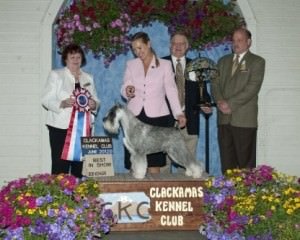 25th Annual AKC Licensed All-Breed Dog Show
June 21-23, 2013
8 a.m. – 5 p.m. | FREE, $5 parking | All Ages
More Info: www.clackamaskennelclub.com/events.html
Clackamas County Events Center
694 NE 4th Ave
Canby, OR 97013
Clackamas Kennel Club INC is pleased to announce that it will hold its 25th annual AKC licensed all-breed dog show in Canby on June 22/23 2013 at the Clackamas County Event Center [Fairgrounds] 1700 dogs will compete for the coveted Best In Show trophy. In addition there will be competition in Obedience and Rally.
In addition to the shows there will be over 35 vendors offering a large selection of dog related merchandise. There will be several health clinics and a microchip clinic. On both Saturday and Sunday there will be a Meet the Breeds event, the perfect time to speak to breeders one on one. On Friday June 21 there will be 8 specialty shows [SMALL events for a single breed].
Admission is FREE and there is only a $5.00 per car charge to park. Show hours are from 8am till approximately 5pm both Saturday and Sunday. This is a family friendly event and Clackamas Kennel Club welcomes well behaved children accompanied by a responsible adult.
Clackamas Kennel Club INC was formed to further the advancement of all breeds of purebred dogs. To do all in its power to protect and advance the interests of all breeds of pure-bred dogs and to encourage sportsman like competition at dog shows and obedience trials.