From our sponsors: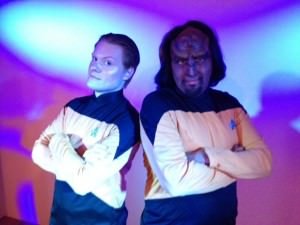 The Unscriptables present USS Improvise, The Next Generation: The Musical!
June 15 – July 27, 2013
Every Saturday | 8 p.m. | Pay What You Want
More Info: www.theunscriptables.com
Funhouse Lounge
2432 SE 11th Ave Portland, Oregon 97214
(503) 841-6734 | More Info: funhouselounge.com
In our last season we created the improvised format USS Improvise TNG. This year we will be doing the show as a musical. All shows and songs are improvised, and with full costumes and props. You might see Riker croon about his yearning for the captain's chair, Counselor Troi deliver a tune about her feelings, or Worf sing about the joys of being Klingon. Because it's improv, anything can happen, and every show is different.
These performances will take place Saturdays 8pm JUNE 15th – July 27th, at the Funhouse Lounge, 2432 SE 11th St. Portland OR 97214 – THESE SHOWS ARE "PAY WHAT YOU WANT"