We are giving away a pair of general admission tickets (includes two glasses & 24 drink tickets) for the Portland Fruit Beer Festival on Saturday June 8 and Sunday, June 9, 2013. To win, comment on this post why you'd like to attend. Winner will be drawn and emailed Friday, June 7.
FREE PORTLAND: We give out 100s of $$$ in free tickets every week including to many of the top music and art venues in Portland. Join our newsletter if you like free stuff
———————————————
From our sponsors: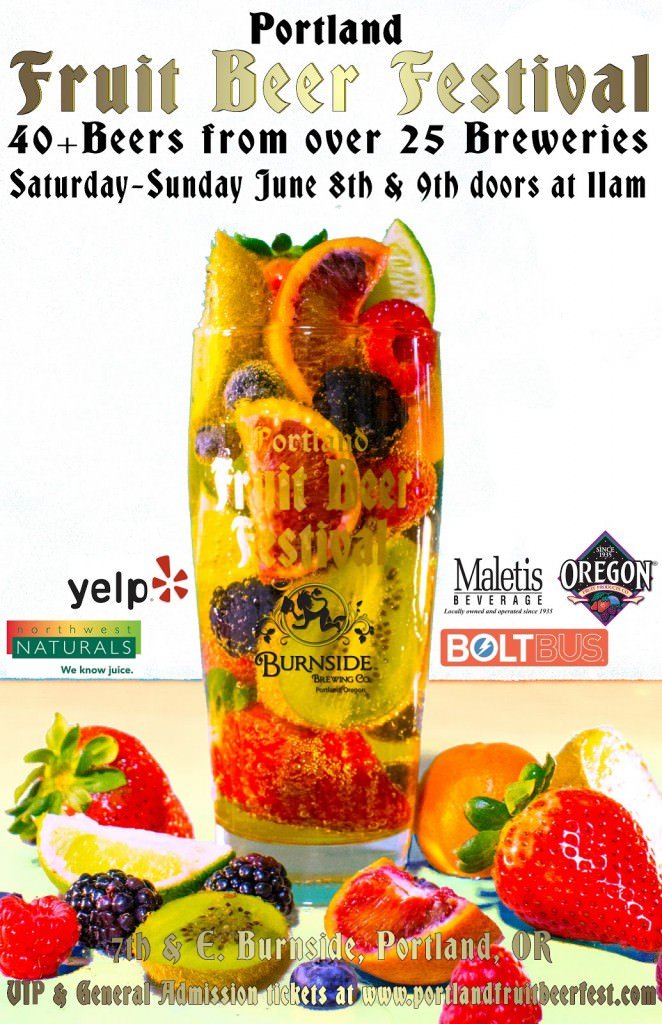 Portland Fruit Beer Festival
June 8, 2013 @ 11 a.m. – 9 p.m.
June 9, 2013 @ 11 a.m. – 6 p.m.
Advanced GA: $20 for one glass + 12 drink tickets
VIP: $28 for early entry, one glass + 15 drink tickets, special beer tappings
All Ages Welcome
More Info & Tickets at www.portlandfruitbeerfest.com
Burnside Brewing
701 E Burnside St Portland, OR 97214
(503) 946-8151 | More Info: www.burnsidebrewco.com
The 3rd annual Portland Fruit Beer Festival will be held on June 8th and 9th during Portland Beer Week and welcome over 30 participating breweries. Highlighting the spectacular flavors and variety that fruit can offer from locally grown Oregon berries to exotic and rare you have never experienced anything like the Portland Fruit Beer Festival.
Taking place outdoors in front of Burnside Brewing Co. on 7th and E. Burnside for it's 3rd year with even more space with the addition of the 7th street closure the PFBF is one of the most centrally located and family friendly festivals in the state. The all-ages festival has something for everyone including hard cider for the gluten intolerant, killer food from the Burnside Brewing kitchen and juices and sodas for the non drinker.
The brewery and beer list this year is more diverse than ever featuring Oregon locals and regional favorites. The beers this year range from a hoppy Mango IPA to a sour Currant and Raspberry Baltic Porter. Lighter beers get their due with an OJ infused Pilsner, Blood Orange Wit and Sour Cherry Wheat. On the stranger side the fest will feature a Sour Cucumber beer a Kiwi ale and a Beer/Cider/Mead hybrid 3-way collaboration. Barrel-aged beers also get their due with special brews from Upright Brewing, Lompoc Brewing, Burnside Brewing and more. If your a cider fan you can look forward to Marionberry and Rhubarb infused hard ciders. As usual nearly all of the beers at the Portland Fruit Beer Festival are brewed exclusively for this event and may be the only place to try them.
Participating Breweries more to be announced:
Alameda
Beer Valley Brewing
Block 15 Brewing
Breakside Brewery
Burnside Brewing Co.
Bushwhacker Cidery
The Commons Brewery
Crooked Stave Brewing
De Garde Brewing
Deschutes Brewery
Double Mountain Brewing
Falling Sky Brewing
Fort George Brewing
Gigantic Brewing
Hopworks Urban Brewery
Laurelwood Brewing
Lompoc Brewing
Lucky Lab Brewing
New Belgium Brewing
Oakshire Brewing
Solera Brewery
Stone Brewing
10 Barrel Brewing
2 Towns Cider
Upright Brewing
Widmer Brothers Brewing
———————-
The Main Stage Taplist:
(These beers should be available on tap for the majority of the 2-day festival)
Alameda Brewing: Alamosa
The Alamosa is a pilsner with orange juice added. Just think about the early morning Mimosa. At 4.8% this will be the perfect beer to drink on a hot summer day, with the added bonus of some Vitamin C
Beer Valley Brewing: Oregonberry Wheat
A light, refreshing, tart fruit beer brewed with 2-row barley, organic wheat malt, cherries, blueberries, and plums.  4% ABV.  4 IBU.
Block 15 Brewing: Psidium
Rustic farmhouse ale matured with guava fruit.  Blended with 33% barrel matured  wheat & farmhouse ales from our wild cellar. Brewed with Belgian Pilsner, French Pale & Wheat malts; Saaz & Citra hops; French farmhouse yeast. 6.2%alc/vol, 17BU
Breakside Brewery: Strawberry Rhubarb Pie
A berliner-weisse style beer brewed with whole baked strawberry rhubarb pies. Watch the video!
Burnside Brewing Co.
A Baltic Porter aged in Pacific Rum barrels with blueberries, golden figs, mission figs and dates.
Bushwhacker Cidery/Upright Brewing: Collaboration Blend
A blend starting off with Upright Brewing's Six a dark farmhouse rye beer that was then aged in wine barrels with Brett (wild yeast) and currants. It was then mixed 50/50 with Bushwhacker Cidery's Hazelnut Rum barrel Rose Hip cider. The blend was then added to a Big Bottom whiskey barrel, where it will only sit for about a week before kegging.
The Commons Brewery: Bier Royale
Sour spelt beer with black currents. ~6% abv. The name is derived from Kir Royale (cocktail)
Deschutes Brewery: Currant Event
Sour Baltic Porter. First we kettle soured a small batch of our Imperial Porter with our house lactic culture. Then we added Black Currants and blended it with a Baltic Porter conditioned with pureed raspberries  The result is a dark, fruited, tart glass of something eventful! ABV:  7.7%  IBU's: 21
Falling Sky Brewing: Strobilus Berry Wheat Bitter    
Looking for a summer pink drink? Overlapping berry character from a blend of raspberries and boysenberries provides a refreshing tartness and brilliant color balanced by a touch of malt and wheat sweetness.
Malts: Crisp Pale & EuroPils, Best Malz Wheat, GW Org Wheat, and Castle CaraGold.
Hops: Calypso; finished with Meridian and Calypso
Extras: Oregon Grown Raspberries and Boysenberries
Vitals: OG 1.047      18 IBU            4.5% Alc
Fort George Brewing: Forbidden Wonder Fruit Ale
For this year's Fruit Ale Festival, Fort George decided to make a kiwi caramel beer.  Kiwis are known around the world by many names, but our favorite is the Chinese translation – ""Wonder Fruit.""  We made this caramel ale with Wyeast's ""Forbidden Fruit"" yeast, infusing a sublte raspberry flavor. The Forbidden Wonder Fruit Ale has a lighter body that won't distract the pallet from the layers of flavor that glide over the tongue.  Even with all of these great ingredients and flavors mixing together, the Forbidden Wonder Fruit Ale is not overly sweet, making it a beer that everyone can enjoy on a hot summer day.  6.7% ABV
Gigantic Brewing: Hey there Fruitcake!
Style: Fruitcake Beer. Fruit: Cherry, Apricot, Orange Peel (maybe cranberry too). Description:  Cherry, Apricot, Orange Peel and Ginger combine with this malty, caramelly beer to make Fruitcake in liquid form (not your aunts rock of a cake..).
Hopworks Urban Brewery: Tiger Tonic
By HUB-o-Matic Brewing (A collaboration of Hopworks Urban Brewery and Automatic Brewing).
Belgian Pale with Wheat, made with Passion Fruit, Mango and Pineapple with Nelson Sauvin, Galaxy and Citra hops.
Laurelwood Brewing: Fruition Wheat
A Berliner-Weisse brewed with Pear and Blackberries.
Lompoc Brewing: Cherry Wheat
A wheat ale brewed in August 2011 with 200 pounds of sour cherries and then aged in Maryhill Winery Port barrels for 2 months.  It has a slight oak aroma with a crisp cherry flavor, finishing slightly tart. 5.0% ABV
Lucky Lab Brewing: Blue Raspberry Lager
Inspired by the popular candy flavor. Brewed with Raspberries and Blackberries. 4.2%"
Oakshire Brewing: Gose the Elder
A traditional gose style beer with coriander and sea salt, with the addition of elderberry. 4.2% abv.
Stone Brewing Co.: Ruination IPA – Tropical Heat Edition
A special version of Stone's Double IPA brewed with Mangos and Habaneros brewed just for the Fruit Beer Fest and Portland Beer Week.
10 Barrel Brewing: Cucumber Crush
Once again 10 Barrel gets fresh! Tonya took her award winning Berliner Weisse and added loads of cucumbers. The aroma is undeniably cucumber. The flavor is like biting into a crisp baby cucumber fresh from the garden. Just when you have had enough the tartness acts as a pallet cleanser leaving you ready for the next sip. Eat Beer! 4% ABV 17 IBU
2 Towns Ciderhouse: Rhubarbarian
Like a barbarian horde, the crew at 2 Towns Ciderhouse raided a local rhubarb patch to create this fearsome hard cider. Tangy, wild, and not for the faint of heart, the Rhubarbarian will bring out the barbarian in you. Give your taste buds +5 sour ability! 6.9% abv
Upright Brewing: Barrel-Aged Citrus Wit
Pure Wit aged with blood orange, seville orange, and grapefruit peels, 4.5%
Widmer Brothers: Champagne de Granada
Pomegranate Berlinerweiss. ABV 3.2%
—————————
Related Portland Beer Week Events:
———————————
Our Portland Events App for PDX Pipeline is now available for iPhones, Android phones and iPads!
Now, you can have all of the great Portland Beer Week Events from our website in the palm of your hand when you're out on the town.
——————————————
—————————————————