From our sponsors: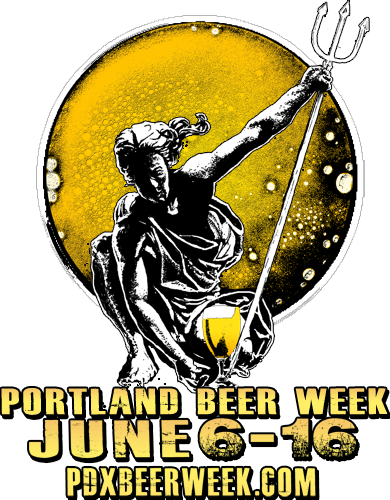 Portland Beer Week
June 6-16, 2013
Full Schedule of Events & Tickets at www.pdxbeerweek.com
Portland Beer Week has returned for it's 3rd year and festivities kick off this Thursday June 6th and run through the following weekend June 16th with nearly 50 events city-wide. Beer Week organizers are excited to announce the release of an official 2013 beer, a dry hopped Northwest "India Wild Ale" conditioned with Brettanomyces, it's a collaboration between Breakside Brewery and Gigantic Brewing. Very limited quantities of this beer will be released on draft and in bottles to Portland Beer Week sponsor bars and retailers.
Revving things up on June 6 is our Kickoff Party at Lucky Lab Beer Hall, 1945 NW Quimby with beers from 20 different breweries, raffle prizes to benefit the Pear mentor project, live music from Elysian Brewing's Dave Buhler and delicious Beer Ice Creams from Salt & Straw. $10 gets you a pint glass and 5 drink tickets each worth one 4oz sample of beer.
Don't miss the official Portland Beer Week bottle release party at Belmont Station on Friday June 7th from 5-8pm, meet-the-brewers at Gigantic Brewing and Breakside Brewery with special beers on tap including the exclusive "India Wild Ale" on draft and in bottles.
Portland Beer Week presents no less than four different festivals during it's 11 days:  Rye Beer Festival on Friday, June 7, the Portland Fruit Beer Festival on June 8-9, the George Jones Tribute Beer Fest at Old Town Pizza in Northeast on Saturday June 15th and closing beer week festivities the Portland Beer and Cheese Fest on Sunday June 16th.
Beer & Food pairings are an important part of Portland Beer Week and a handful of dinners at
the cities finest restaurants
are in order including a
Stone Brewers Dinner at Raven & Rose
on 6/6, a
Hopworks & Laurelwood Collaboration dinner with Vitaley Paley at the Portland Penny
on 6/7, 
Crooked Stave Artisan Beer dinner at Wildwood
on 6/8, a
Summer BBQ with Fal Allen of Anderson Valley at Saraveza
on 6/9, a
Hood River centric dinner at Ned Ludd with Double Mountain and Priem Brewery
on 6/10, a
New Belgium Brewmasters Dinner at Ned Ludd
on 6/11, a
Sierra Nevada cellared 30th Anniversary beer dinner at Wildwood
on 6/14 and a
Widmer Brothers Dinner at Oba
on 6/15.
Special guests
traveling for this years festivities include: Steve Wagner (President of Stone Brewing Co.), Chad Yakobsen (owner/brewer at Crooked Stave Brewing), Peter Bouckaert (Brewmaster at New Belgium Brewing), Jeffers Richardson (Firestone Walker Barrelworks Director), Wayne Wambles (Brewmaster at Cigar City Brewery), Adam Robbings (Reuben's Brews), Don Webb (Naked City Brewing) and Fal Allen (Anderson Valley Brewing) to name but a few.Keep tabs on all of the nearly 50 events at 
pdxbeerweek.com/calendar
In its third year, Portland Beer Week is designed to
educate and celebrate beer
and Portland's incredible beer community.
—————————
Related Portland Beer Week Events:
———————————
Our Portland Events App for PDX Pipeline is now available for iPhones, Android phones and iPads!
Now, you can have all of the great Portland Beer Week Events from our website in the palm of your hand when you're out on the town.
——————————————
—————————————————