From our sponsors: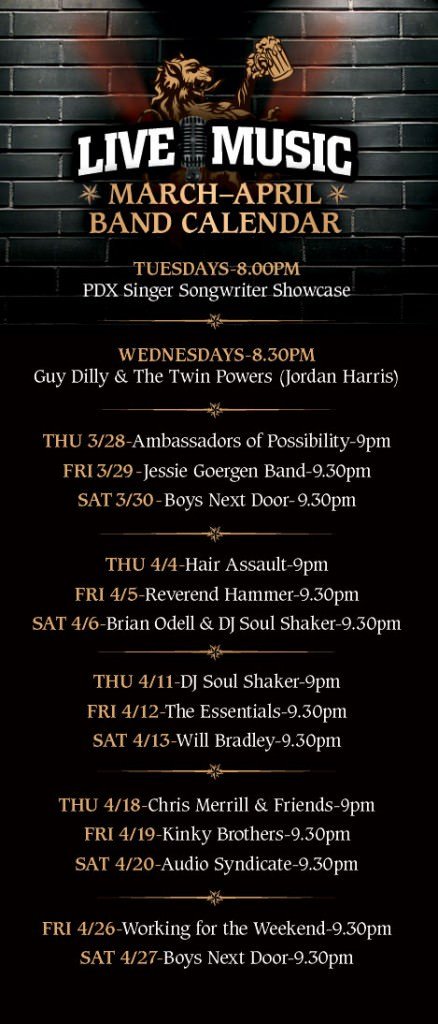 Live Music at Thirsty Lion This Week
April 23-27, 2013
Complete live music calendar HERE
Thirsty Lion Pub
71 SW 2nd Ave Portland, OR 97204
(503) 222-2155 | More Info: www.thirstylionpub.com
Tuesday, April 22nd • 8pm:
Portland Singer Songwriter Showcase
Portland's best singer songwriters showcase their skills every Tuesday night at the Thirsty Lion Downtown, stop by for great beer, food and music! Our finals show will be on Tuesday, April 30th! Check out some of Portland's best singer songwriters!
Wednesday April 23rd • 8:30pm:
Guy Dilly & The Powers (aka Jordan Harris)
Imagine if John Mayer, Queen, and Neon Trees sat down and had a jam session. Guy Dilly & The Powers bring all that and more every Wednesday night at the Thirsty Lion. Come check them out!
Thursday, April 24th • 9pm:
Sam Rouissi
Sami Rouissi, a singer-songwriter from Nice, France plays an eclectic mix of folk, blues, soul and pop rock music. Sami's first introduction to any musical instrument was late in life, however, he quickly recognized his love for music, and began honing his skills on the acoustic guitar. Soon after, he started performing publicly and made a living as a college student playing in the local bar scene in the south of France, slowly growing a loyal fan base. He eventually landed in Portland, and frequents the Portland music scene delivering smooth, yet upbeat sounds with a warm and soulful voice.
Friday, April 25th • 9:30pm:
Working for the Weekend
Saturday, April 26th • 9:30pm
Boys Next Door
Imagine a virtual jukebox of most of your favorite songs from the 60's through the 00's. Everything from AC/DC to Green Day; Brown Eyed Girl to Turnin' Japanese; and a boatload in between. Though throwing in an original by one of the band's songwriters every now and again, Boys Next Door are the quintessential cover band. Yell out a song and they're likely to learn it and play it for you on the spot!